Improve your ranking with this Easy Guide!
Ranking in the Google local pack can really help your business reach the next level. It's just not as easy as it seems though when you actually start trying for yourself.
There's all sorts of advice…
some good, some bad – on how you go about increasing your map presence.
You listen to one 'expert' and they say don't worry with citations in 2022. Then another expert will tell you citations are the most important thing you can do for local search.
It can be a bit confusing if you're not immersed in the industry, so let's try to help separate facts from fiction. First though, we'll go over the basics of what you – the business owner – can do without any help.
Optimizing Google Maps Listing – The First Steps
Before we get into the practical optimization tips, let me go ahead and tell you just how frustrating you may find this whole process.
Why?
Because at the time of writing, Google frankly doesn't reward your hard work fast enough in the local map. In spite of your best efforts, you'll often find profiles that are incomplete with little or no reviews outranking you for many weeks. If you work hard, you'll definitely improve your overall traffic though, and you can beat those listings out eventually by increasing your brand prominence. So, hang in there! Let's get started with these 10 easy steps:
Step 1 – Getting the basics right
When it comes to local search optimization, the most important thing to do is consistently represent your business information everywhere. Start with your Google Business Profile profile and list all the basics like business name, phone number, address, service area, etc. Here's how you go about setting up your profile correctly from scratch:
Start by going to the GBP help center at https://business.google.com/
IMPORTANT STEP – You want to search for your business in Google first to see if there is a listing you should claim or request ownership of instead of creating a new one. Otherwise, proceed to the next steps to build a new local listing:
You'll want to sign in if you are not already:
If this is your first time setting up your Google My Business profile you should be greeted with the screen below. If you've already set yours up though, open it up and keep reading for some important optimization tips.
It's asking for your business name information here, but stop and read this next section closely…
You're about to edit the most important part of your listing. Your business listing title can make or break your results. Get spammy by stuffing keywords, and a competitor will report you to Google ASAP.
But if you find a way to add some of your services here in a way that doesn't violate Google's terms of service, you have struck local marketing gold. One way to go about this is to legally register your business entity with your local State government in a way that includes some keywords. You can also include keywords in the branding on your business website. Here's what I mean:
OKAY TO USE TITLES:
Acme Roofing LLC
Acme Roofing Service
Acme Inc.
Assuming that your website branding lists your business exactly as "Acme Roofing Service" you're okay. You wouldn't want to do the 3rd option though because you're missing the opportunity to include keywords. I'd literally consider changing my branding – if I was just starting out in a roofing business – to make this work with Roofing Service in the title, because your business title makes up so much of how your profile will rank in the maps. Google doesn't tell us this explicitly, but it's been tested to death and proven to be true. Also, if you are a roofer, be sure to check out our full library of roofer marketing content on our blog! For everyone else, let's look at some spammy titles you'll want to avoid below.
NOT OKAY TITLES:
Acme Roofing Company – Gutter Repair, Metal Roofs, Top Contractor
Acme Roofing in Scranton, PA
Scranton Area Roofer – Acme Roofing
Stuffing industry terms or location keywords may give you a big boost, but it could also land you in 'Google Maps jail'…
Most likely, Google will just edit out the spam. There is a chance though that your listing could be removed because of a Google quality rater finding other issues in their review, and that's a disaster because…
INSIGHT:
Google trusts business entities that have been around a while.
If your listing gets permanently removed you've lost all the trust that was built up over time, and you'll have to start over with lost map rankings.
I've seen direct evidence of this when we – finally – figured out how to get into a client's 8 year old account and replaced the local listing we had just built with their aged GMB listing from years ago. The local SEO results were dramatic to say the least! It's very similar to the age of your website domain, which is an organic ranking factor.
KEY TAKEAWAY
GMB listings age like a fine wine! Never let yours expire, or you'll be starting over from scratch!
Step 2 – Selecting the right Categories
This next step is also an important local ranking factor, so you want to get it right for sure.
You have a primary category and slots for secondary categories. It's considered an optimization best practice to list the service that best describes your business in a broad sense as the primary category, while it may or may not be beneficial to list additional services in your secondary categories.
My personal take on this is that you start by looking at your high-ranking competition to see what categories they choose. I start by copying what everyone in the niche seems to be doing, but I will also search around for additional categories that might be a good add.
If I find those, I will often make small changes so that my list better matches what the business does, and test those new categories over a 30 day period. Watch your direct traffic in Analytics and all your other important metrics to see if the change is beneficial or not. By default, your GBP traffic will show up as 'direct' along with a few other sources in analytics.
PRO TIP: For more precise tracking, you should probably set up a UTM code as your GBP profile URL. That way, you know 100% of that traffic is coming from GBP versus the possibility that some of your direct traffic is actually people typing in your web address directly.
Step 3 – Going public?
Confession time – I remember MANY years ago when I would tell our customers to use a UPS Store box to get a public address for their business. 🤦 That's a total violation of Google's rules though and this type of listing is most likely to get removed if you try it today.
It can also land you in Google's jail if you use a virtual office space address from a location that does not have a person on staff during business hours to greet the public. Those are harder to detect algorithmically though because we're usually talking about 10-20 businesses at the same location versus 80-100+ at a UPS Store.
Why does this even matter?
In most niches, Google gives more value to businesses that have a physical office address listed. It's very difficult to rank a home-based small business with a hidden address, but it can be done in some cases for sure. If you can share a public address, Google will usually reward you with better map rankings, even after COVID19 and the resulting relaxation of those restrictions.
Step 4 – Adding Your Service Area
If you visit customers at their location to provide a product or service, you should select as many of your target markets as possible within a 20-30 mile radius. You can go a bit further out than this, but it will take a lot of work to land in the 3-pack anywhere that far away from your physical address.
Step 5 – Contact Info and Website
Time to submit NAP data. Enter your phone number and if you already have one, your website URL. If you don't have one, you can select the last option and Google My Business will help you create one using their template builder.
PRO TIP:
You can also get a free GMB profile website later on, even if you enter your live URL here.
Most local SEO experts will tell you to go ahead and build the business.site template website anyway and we tend to agree. It's free real estate from Google and they love it when you use their products! We build ours out thoroughly with unique content and links to important brand properties around the web. You can check out an example of one properly optimized by viewing ours here for more inspiration – https://seo-by-sociallyin.business.site/
Anyway, back to the main tutorial…After this step, you'll arrive at the Finish screen. Just hit next and let's finish optimizing your local listing!
Step 6 – Fill in the Details
Next you'll be greeted by a screen similar to this one where you will want to click on 'Info' and fill in as many details as possible about your business profile: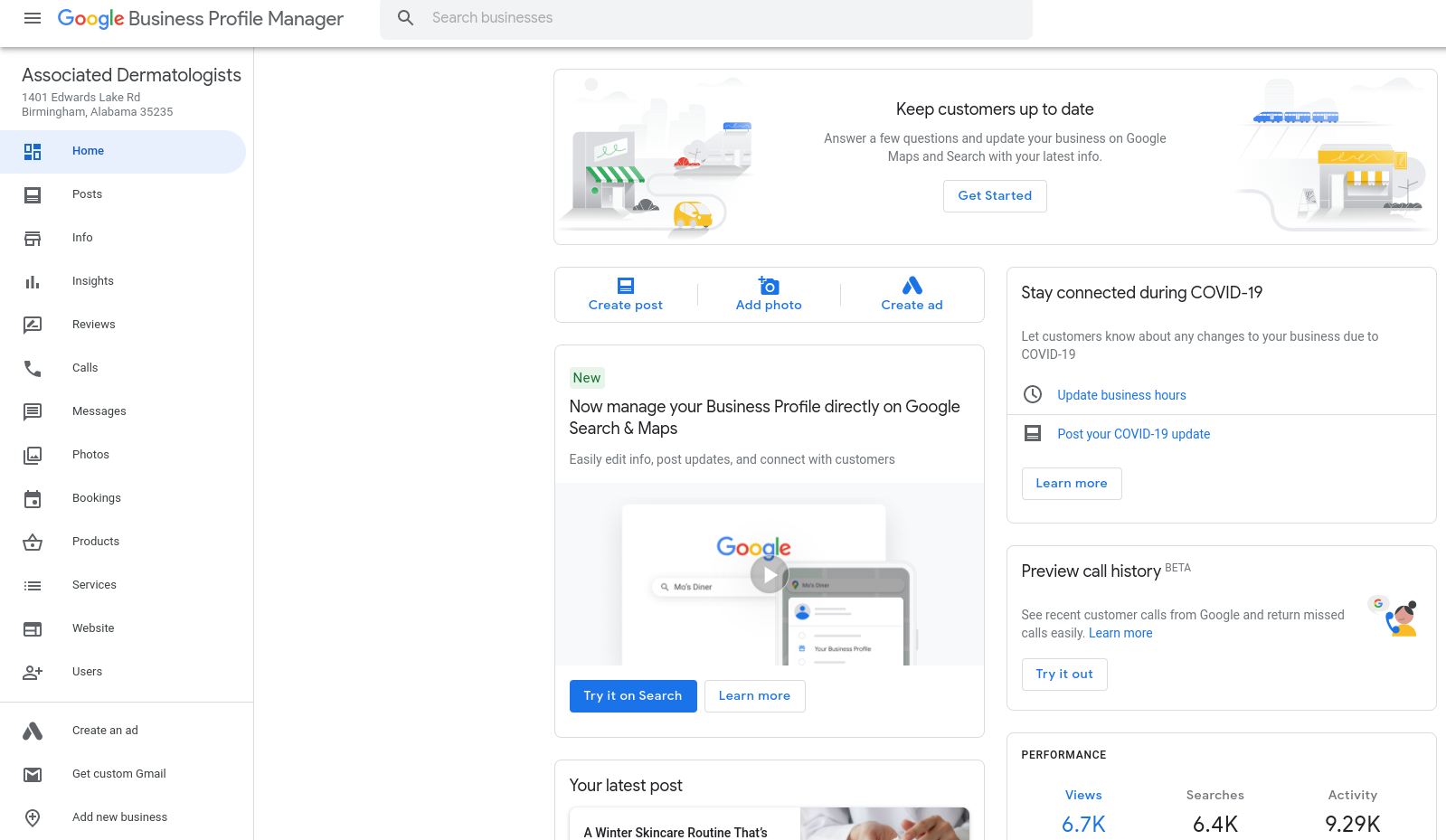 At a minimum, be sure to submit the following information:
Hours of operation
Profile short name
Appointment URL
and if you have time…
Products or Services (depending on your business type)
Highlights (if any)
Complete Description
Opening date
You should also go ahead and update your hours for any upcoming holidays while you're here. Google doesn't want confused consumers showing up to a closed business on New Years Eve and neither should you.
For your appointment URL, add your contact page or bookings page here so that customers can find the fastest way to reach you from Google. This is an opportunity to link to your website from a Google property, so don't waste it!
Another important thing to note is just how valuable the space in your listing description is. Fill this valuable real estate with an informative and compelling overview of what you do. It's your elevator pitch to the Internet, but it is also a great place to include a few important words or phrases if you can.
Never Stuff Keywords! – But definitely add your primaries along with a few LSI terms when it makes sense to do so.
Step 7 – Add Photos
It's very important to get as many informative and engaging photos as possible added to your Google My Business profile. Everyone pretty much knows that already, but did you know that it also matters where you add your photos to? Check out these screenshots to see what I mean:
Notice the big blue + sign in the top right corner above? Most business owners never leave the 'Overview' tab that's selected by default and drop all their photos there.
But Google gives us a lot of different options here, and you'll get better results if you take advantage of them all:
PRO TIP – It will help to add at least 2-3 images to each section you possibly can. Be sure to update your profile with fresh photos often.
You should be able to either hire a photographer or take your own photos to fill up these sections on your profile:
Overview
By Owner
Video
Interior
and also don't forget
Exterior
At Work
Team
Identity
For the 'By Customer' section, we recommend just asking a customer to take a photo on location or with your team and ask them to upload it to your profile when they leave a review.
It's definitely okay – per Google's guide – to ask for reviews from real customers. Other platforms like Yelp may try to prohibit that though and it's universally considered to be – not cool at all – if you ever try to buy reviews.
Step 8 – Encourage User Interactions
Let's expand on that last point about reviews and look at a few options to encourage user interaction with your GMB profile.
We're Finding that GMB Reviews Impact Ranking A Lot Right Now!
Both the frequency of reviews and the total number matter for ranking in the 3-pack map. Having keywords in the review copy and your responses helps – ALWAYS respond to every review! Just don't use that fact as justification to spam keywords or pay for Google reviews.
In addition to the ranking boost, reviews also inspire trust in potential customers. All other things created equal, the brand on the map with the most reviews will tend to get a higher click-through rate (CTR) than they otherwise would based on position alone.
But what about negative reviews from customers?
Aside from the fact that we all dread the possibility of dealing with an angry customer, it's almost inevitable. You can't please everyone, but you can be proactive about protecting your brand reputation from the consequences of negative reviews.
Respond to negative reviews and attempt to tactfully explain the situation to the customer. Be aware that the person who left the review will get a notice from Google showing them your response.
You can try to reach out to them directly and make it right somehow. It's possible to successfully convince people to remove or change their bad reviews with enough diplomacy but if that fails, don't beat yourself up too much…
The reality is that customers expect your brand to have a few negative reviews if you've been in business for a while. Just focus on building your total number of reviews. That way, you should be able to keep your average in the high 4s even if you are unable to get the few negative reviews changed.
Oh and to answer the burning question that's been on your mind since you started reading this section, at present Google does not seem to devalue listings based on negative reviews. Rest easy knowing that your ranking probably won't take a hit.
BONUS – Google now allows users to directly ask a business a question. Treat these questions like a mini FAQ about your company. If you get the same questions repeatedly, ask the next person who brings it up if they would mind asking you the question directly on your GMB page like this:
Having questions from customers shows Google the public is interested in your brand and may boost your ranking a bit. Looks like we need to get busy ourselves! 🤦‍♂️😅 Help us out and use Google to ask us a question if you'd like!
Step 9 – Post Frequently
Posting Has Been Proven to Increase Map Ranking slightly.
And it only takes a few minutes to write a quick update and upload an image or video to your business profile. While we recommend that you post weekly, even once or twice a month is better than nothing and will help your ranking in less competitive markets.
It's also important to leverage multiple post types:
If you're going to host a lunch-and-learn or put on a workshop, why not spread the word to potential customers in Google? Working on a killer Black Friday deal? Let your audience know about it with an Offer post.
Google rewards profile activity and you should try to include as many different post types as possible within your content schedule.
Step 10 – Time to Optimize your 'Off-Page' with Citations
Citations are still a very important ranking signal for local businesses!
But what's a business citation anyway?
Put simply, this is any text that mentions your brand along with your NAP data, which stands for Name, Address, Phone Number.
If your location data is consistent in driving direction databases and important business directories, it's easier for your customers to find you.
It's also easier for Google to trust the validity of your location data, so this is a win for everybody.
We submit small business website citations as an SEO service. There are about 300 business directories we typically submit a local business to. You can also do an aggregator website submission or subscribe to a service like Yext or Brightlocal. However, those services usually come with a monthly or yearly subscription and you can save a little money by doing the work yourself instead.
Another way to build citations and attract customers that many overlook is to do a quality press release distribution. You can include your contact info at the bottom of your news release to earn placement on many media outlets, provided your content is newsworthy enough.
Here's a few ideas on promoting your local brand with a press release submission:
Celebrating X number of years in business
Hiring or promoting a key employee
New offers, discounts, and promotions
Large charity events or contributions
You should be aware though that DIY citations won't be easy at all:
Properly submitting a listing to a directory website like YellowPages takes about 15 minutes per site. That's after you've gathered all your info so you can quickly copy and paste NAP information into form fields. Then there's the follow-up…
Many of these sites get spammed by fake listings, so they will want you to email verify to prove you're real.
I wish that was the end of it but after you've invested about 100 hours into your initial submissions, you'll need to check back in 6-8 weeks to see which ones made it live and then attempt to resubmit the rest.
If that sounds like fun to you, get to typing!
For the rest of you…
get some SEO help from Webology
before you develop a repetitive motion injury!
NEXT STEPS:
If you've completed these basic optimization steps, it will likely take Google a few weeks to reward you for your efforts. Then again, in competitive markets you may be finding that you have a lot more work to do.
Keep an eye on your map rank and if you need more help, the next step will be extensive on-page optimization for your website and an outreach campaign to earn more quality backlinks. Follow that path and you'll likely be well on your way to map placement. Then you'll get to share in some of the inbound leads your competitors are enjoying today.
Thanks for reading and reach out to Webology if you need help optimizing your local listing.