Any business owner knows that marketing is essential to success. After all, how can you sell your product or service if no one knows it exists? When it comes to roofing though, traditional marketing methods may not be enough. That's because potential customers usually don't think about their roofs until there's a problem. And by then, they're often already working with a competing roofing company.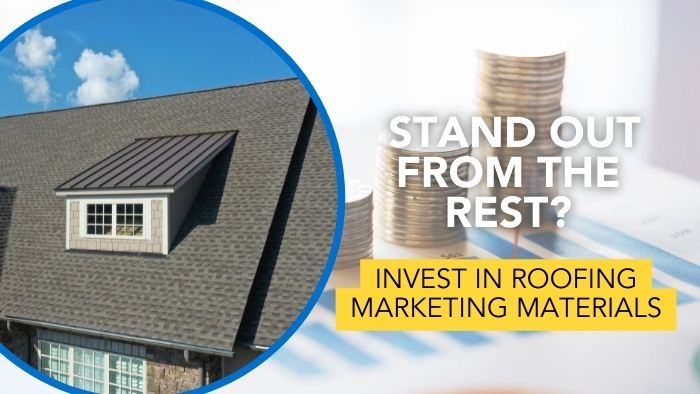 So how can you make sure your roofing business stands out from the rest? One answer is to invest in roofing marketing materials. These specialized marketing tools are designed specifically for the roofing industry and can help you attract potential customers at the moment they're making a buying decision. From website banner ads to targeted Google Ads, Roofing Lead Generation in the digital age has the resources you need to get your business noticed.
In this article, we will discuss the best roofing marketing materials [both traditional and digital] that you should be investing in to help your roofing business get a competitive edge in the roofing industry.
What are Roofing Marketing Materials?
Roofing marketing materials are any type of marketing tool that's specifically designed for the roofing industry.
They can include things like:
Print ads
Magnets or Signage to Website Banner Ads
Targeted Google Ads
Brochures and Flyers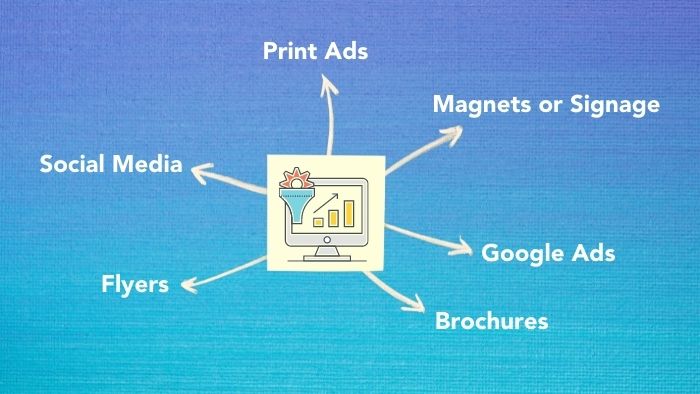 Importance of Marketing Materials for Roofing Companies
Roofing marketing materials are important for two reasons.
1. They help your business stand out from the competition
When potential customers are in the market for a new roof or in need of any other roofing services, they are typically already experiencing issues with their roof. And by then, they are probably already considering working with a competing company. This makes having marketing materials that will catch their attention and persuade them to choose your services instead critical to the success of your business.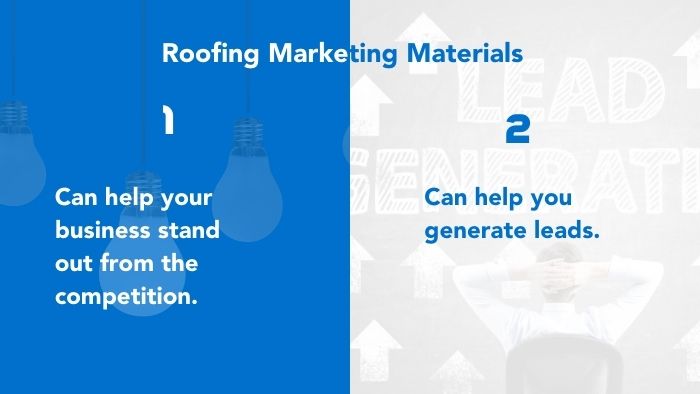 2. Roofing marketing materials can help you generate leads
When potential customers see your ads or brochures or truck magnets, they may be interested in learning more about your company and what you offer. This can lead to more conversions and more business for your roofing company.
Effective Marketing Materials for Roofing Businesses
Now that we've discussed what roofing marketing materials are and why you should definitely invest in them, let's identify some of the most effective roofing marketing materials to ensure you get the most out of your marketing strategy.
Brochures and Flyers
Brochures and flyers are another common type of roofing marketing material. They're often used to promote special deals or promotions that your company is running. They can also be used to showcase your work and highlight some of your most recent projects.
When designing your brochures and flyers, make sure to include images that will capture attention and clearly explain the benefits of choosing your company. You should also include a compelling call-to-action so that potential customers know what to do next.
Direct Mail
Direct mail is another effective way to reach potential customers for your roofing business. With direct mail, you can send out postcards, coupons, or even promotional letters to potential clients within your service areas.
Email Marketing
Email marketing is a great way to reach potential customers who may be interested in your roofing services. You can use email marketing to send out newsletters, promotional offers, or even just general information about your company.
When creating your email marketing campaign, make sure to include a strong call-to-action so that potential customers know what you want them to do. You should also segment your list so that you are only sending emails to those who are interested in roofing services.
Social Media
Social media is a great way to connect with potential customers and generate leads for your roofing business with a personal touch.
You can effectively use social media to share information about:
Your Company
Special deals or Promotions you are running
General information about the roofing industry just like email marketing.
When using social media for your roofing business, it's important to post quality content that will capture attention and persuade potential customers to choose your company.
It's also important to be active on social media and respond to any questions or concerns that potential customers may have. Customers like it when a company is responsive as it says a lot about how professional and efficient they are.
SEO-Optimized Company Website
A well-designed, SEO-optimized website is one of the most important marketing tools for any business, and roofing businesses are no exception. Your website is often the first impression potential customers will have of your company, so it's important to make sure it is professional and informative.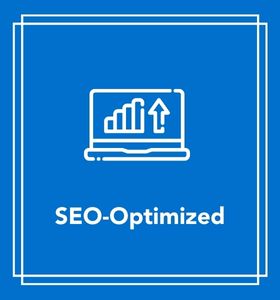 Your website should include information about your company, your services, your team, and your work. It should also showcase some of your most recent projects. And most importantly, it should be optimized for search engines so that potential customers can easily find you online.
Your company website should include keyword-rich content so that you can rank higher in search engine results pages. And don't forget calls-to-action on every page so visitors and potential customers are guided on what they can do next.
Referral Program
A referral program is a great way to generate leads and increase business for your roofing company. With a referral program, you can offer incentives to customers who refer new clients to your business.
This is a great marketing strategy because it not only generates leads, but it also helps promote word-of-mouth marketing which is among the most effective and cheapest marketing tool your business can have. We all know that happy customers are more likely to leave positive reviews and recommend your company to others.
Online Reviews Management
In today's digital age, potential customers are more likely to research a company online before doing business with them. That's why it's important for your roofing company to have a strong online presence and positive reviews.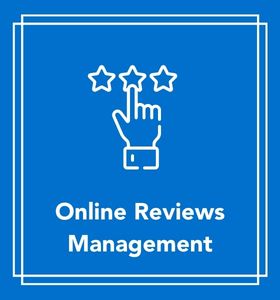 You can manage your online reviews by monitoring sites like Google My Business, Yelp, and Angie's List. Responding to both positive and negative reviews is important as it shows that you are active online and care about what people are saying about your company. It's also important to generate new reviews on a regular basis, and you can do this by asking customers to leave a review after you complete a job. Offering incentives for customers who leave positive reviews is something you should definitely consider too.
Paid Ads or PPC Campaigns
Paid ads, also known as pay-per-click (PPC) campaigns, are a great way to generate leads for your roofing company. With PPC, you can place ads on search engines like Google and Bing, and you only pay when someone clicks on your ad.
PPC campaigns can be very effective if they are well-designed and well-executed. Although you can do it on your own, investing in an experienced marketing agency or professional can ensure you get the most out of your campaigns since it comes with a monetary investment.
Online Directories
There are many online directories that allow businesses to list their company information, and this is something your roofing company should take advantage of. Especially because a lot of those are available to your company for free! Just be sure to include a keyword rich description so that you get the most bang for your buck with online directories.
Some of the most popular online directories include:
Google My Business
Yelp
Angie's List
HomeAdvisor
Thumbtack
These platforms can help increase your visibility online and generate leads for your business. Make sure your company information is accurate and up-to-date, and include photos and videos to showcase your work.
Content Marketing
Content marketing is a form of marketing that involves creating and sharing content online, such as blog posts, infographics, videos, and eBooks. The goal of content marketing is to attract and engage potential customers with interesting and valuable information.
Content marketing can be very effective in generating leads for your roofing company if it is well-planned and executed. Make sure to create content that is relevant to your audience and provides value. In addition, be sure to promote your content through social media and other online channels.
Conclusion
As you can see, there are a variety of roofing marketing materials that you can use to reach potential customers and generate leads for your business. By using a mix of these marketing tools, you can create an effective marketing strategy that will help you attract new customers and grow your business.