Do Roofers Need SEO in 2023?
Yes, roofers always need SEO, no matter what year it is. Roofing is a competitive industry, and local SEO's importance becomes increasingly essential as each year passes. Roofing companies and HVAC technicians are always on the lookout for new clients. They have to be able to get their information out there to reach potential leads, and it's not enough for them to have a website that has 'just been up and running' for a few years in the hope that people find them.
That's how you get left behind in the home services business! Rankings and visibility are everything. These companies sell a high-ticket item and that drives up all advertising costs from PPC to SEO and everything else.
A successful roofing business actively promotes its services online and if you're just getting started, this can be done successfully by leveraging Webology's comprehensive roofing SEO guide.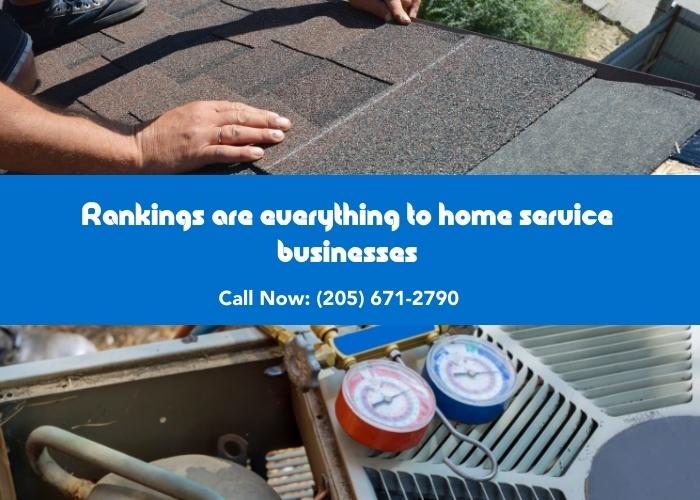 The best thing about SEO is that it doesn't cost anything. You can learn how to do it yourself or hire someone else to do it for you, but either way, you earn the rank you get through effort. That energy invested into your local roofing SEO will pay dividends for years to come, so you're best off doing it right the first time by hiring a company that specializes in local SEO for roofers. But how do you choose the right company in a space that's constantly as crowded as the roofing business during hurricane season? Which SEO services can you trust? If you hire someone, it needs to work!
Make sure they're experienced in what they are doing because if not, they might cost you more money than just learning how to do SEO yourself. Leads are hard to come by in the roofing industry, and it is not uncommon to pay over $20 per click in Google Ads. Still, you can get access to even better leads by leveraging the power of local SEO marketing for your roofing business.
What are Local SEO Tactics and 5 Reasons Why They're Important to Roofers
Local SEO refers to optimizing a website for a specific geographical area. This includes optimizing your website's content, meta tags, and other metadata to reflect a locally relevant focus and ensure it displays on important search engine results pages. Local SEO can increase your site's traffic, increase conversions, and improve brand awareness. Here are some Local SEO ideas and other marketing examples roofers can benefit from: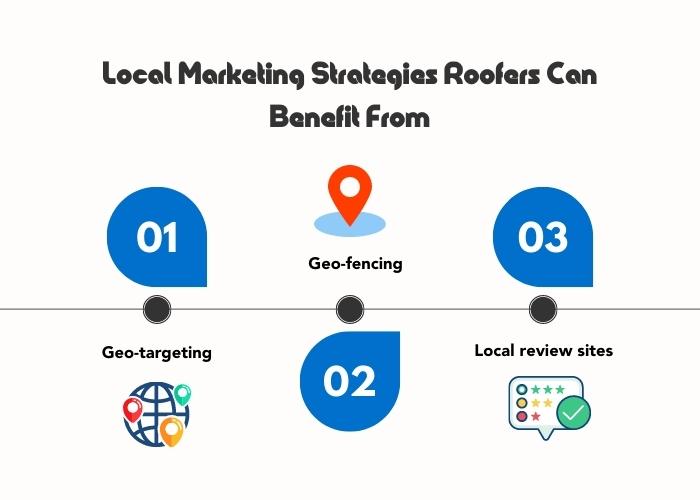 ● Geo-targeting: This means placing your enterprise in the right place based on what people search for when they use Google Maps. You can create map pins (linking to your website) or additional information about your firm to your Google Business Profile – Formerly known as the Google My Business profile.
● Geo-fencing: Geo-targeting involves using the location of users' devices and mobile devices to show them images of nearby enterprises. This helps you reach potential customers who may otherwise not find your firm through search engines like Google Maps or Yahoo! Local Search. This paid ad strategy can help you generate local leads while you're waiting on your keyword rankings to kick in from your SEO efforts.
● Local review sites: These sites allow consumers to write reviews about firms they've visited or worked with. Suppose your company has a list of past customers. In that case, you can reach out and ask them to leave you a review on Google or any number of other business directories that might help your search engine optimization efforts. This strategy works even better if they share those reviews with their friends via social media channels like Facebook, Instagram, and Twitter, which increases visibility and can help drive referral traffic.
What is Roofing SEO?
Roofing SEO is an integral part of local SEO for roofers. The best way to rank in Google for high-value, location-specific keywords is to build a website content library with several relevant and targeted articles for each location you want to service. By listing each important city and suburb on your website, you'll show Google the exact location you want to service and start to show up in more searches throughout your local area.
How to Get Your Roofing Brand on More Map Listings
You can use Roofing SEO to improve your google business profile ranking on Google Maps. The first step is to find out which keywords your potential clients use to search for ventures like yours. You can do this using software like the Google Ads Keyword Planner or the Google Trends tool. Both of those are free to use for local keyword research.
Once you know what keywords people use to search for you, use those phrases as anchor text for your website's pages. This way, when someone searches for "Roofer Trussville" or "Roofer Birmingham" on Google Maps, they'll see your firm listed first.
The 5 [BONUS] Reasons Why Local SEO is Important for Your Roofing Business
1. SEO helps you target specific neighborhoods and markets
Local SEO is a great way to target specific neighborhoods and markets in which you want to do more business. It's also important because it helps you determine which areas have the highest concentrations of your target audience. Does your roofing team specialize in re-roofing historic homes? Are you located in central Alabama? If so, a neighborhood page targeting the Southside area of Downtown Birmingham might be an essential location page for you to list on your website. The site is filled with historic homes; many desperately need restoration services from a licensed roofing company like yours.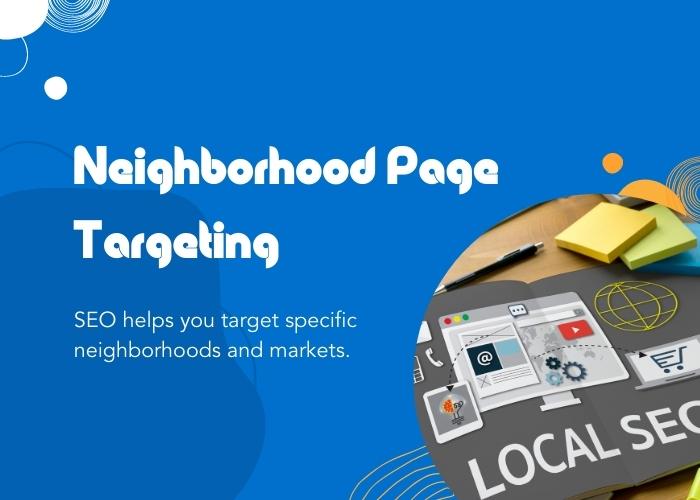 Local SEO can help you determine which neighborhoods have the highest concentration of your target audience. To be the most effective, your local SEO efforts should be focused on the areas your company is best suited to serve. Focus your content optimization strategy on specific markets, and you'll get more accurate results. Your growth will be secured with better leads than ever imagined from your online marketing efforts.
2. It helps you get listed in local directories
Local SEO can help you get listed in important directories like Yelp, HomeAdvisor, and CitySearch. Being more visible in local search results gets you picked up by these sites when they start to compose a new 'top 10' or 'best of the list of companies in your local market. If you've found, you often get added for some free bonus PR…It also helps you reach out to customers who have already discovered your venture through their neighborhood search engine choices like NextDoor or Angie. Local directories are the most direct way to reach out to potential customers and are often free to join. The more people browse through directories that include your business info, the more chances they have of getting found by them.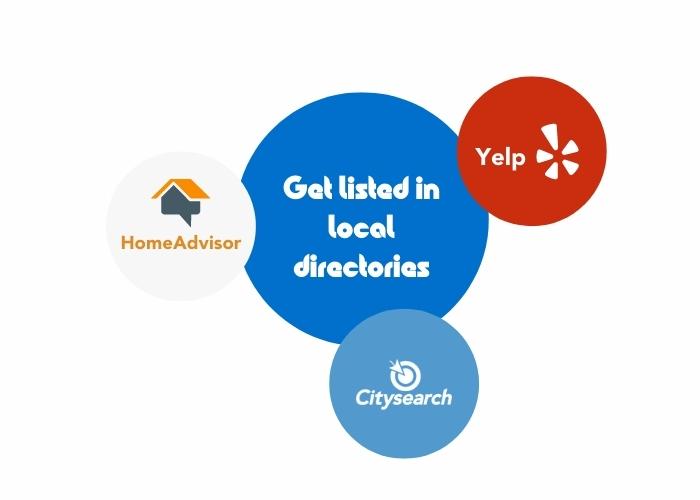 When someone searches for a product or service in the area where you operate, they will see your listing first before they move on to other options from out-of-town contractors. People trust locally owned and operated businesses! They can then decide whether they want to call or visit your store if they find it interesting or relevant to their search query.
3. It Lets you Feature Reviews from Customers in your Specific Location
You can feature reviews from customers in your location, which is especially helpful if you're also an e-commerce site with a storefront selling direct roofing materials to consumers. People trust GAF and Owens-Corning roofs to last for years because both brands have built a strong reputation of trust online through careful reputation management.
According to Qualtrics, 93% of consumers trust genuine online reviews over word-of-mouth (and only 49% trust paid influencers). Local search results are the most trusted source of information when shopping online, so you must get those reviews published wherever possible for the success of your roofing company.
4. Reach Mobile Customers Easily
Local SEO allows you to reach mobile customers easier. Mobile search was increasing, and expected that from 2020 onward, at least 50% of all internet searches will be done on mobile devices. Local SEO allows your roofing website to show higher search results for local keywords. This helps you get more leads from people searching for a specific business or product in their area. Leverage your expertise and respect in the local community to continually add new customers through their mobile devices.
5. See a Continual Increase in Sales
The Local SEO process drives more sales by increasing targeted traffic over time. Local businesses that rank well for local searches are more likely to receive organic traffic from people searching for their business name or other relevant keywords. This can lead to increased sales and leads, as well as an increase in local brand awareness.
Local Search Engine Optimization Guide
Local SEO is optimizing your business listing on search engines like Google, Yahoo! DuckDuck Go, and Bing to ensure that customers find you first when searching for a local organization that can help with their roofing needs.
Local SEO is essential because it helps increase your visibility in the local marketplace, leading to more customers, repeat business, and referrals. With the right agency to manage your SEO services, your company can enjoy steady growth year over year.
How Do You Optimize My Local Listing for Max Traffic?
Many factors go into local SEO…It's a Complicated Process, but to keep it simple, here are a few top-level concerns:
Location – Your location affects everything, from how many people are searching for you to how much traffic you get. If you're close to a dense population center, you'll have a bigger market to service, but generally speaking, there will be more competition.
Content – Make sure that your roofing website has high-quality content. This will help your site rank higher in search results, but it will also help improve the overall quality of your site as well. The more quality content you have, the better off you'll be if someone does find your site through a search engine result page (SERP). At Webology, we use competitor averages to determine the exact content signals you'll need to beat the competition. Reach out to schedule a complimentary SEO audit and learn more about your specific market's SEO signals.
On-Page Optimization – On-page optimization includes keyword research and creating relevant content for each keyword you want to rank for. Our process involves a complete SEO roadmap designed to guarantee your success through tested SEO processes. We're one of the few agencies certified in scientific SEO processes, and we specialize in marketing for home services businesses like yours.
Off-Page Optimization – Off-page optimization includes link building and marketing strategies that can result in higher rankings in search engines and organic traffic from social media sites like Facebook and Twitter.
Use of High-Quality Videos and Images – Make sure your site has high-quality images and videos on every page. Search engines consider these things when ranking websites, so having them will help increase the chances of getting listed by search engines like Google and Bing. Recent advances in AI image recognition are being implemented constantly as Google continues to work on fighting spammy listings in local searches.
Create landing pages – Create landing pages for each service you provide on your website so visitors can easily find what they're looking for without having to scroll through multiple pages on their way down the menu. Keep things simple but concise, so your users can quickly find what they're looking for.
Why is Local SEO Services Important?
Local SEO is important for roofers, HVAC contractors, and other home services businesses because it helps drive consistent traffic to your website without relying on pay-per-click (PPC) ads. The more traffic you get, the more customers you will have, and the less money you'll have to spend on paid advertising. And when you have more customers, your business can grow and expand even through the ups and downs of a post-pandemic housing market.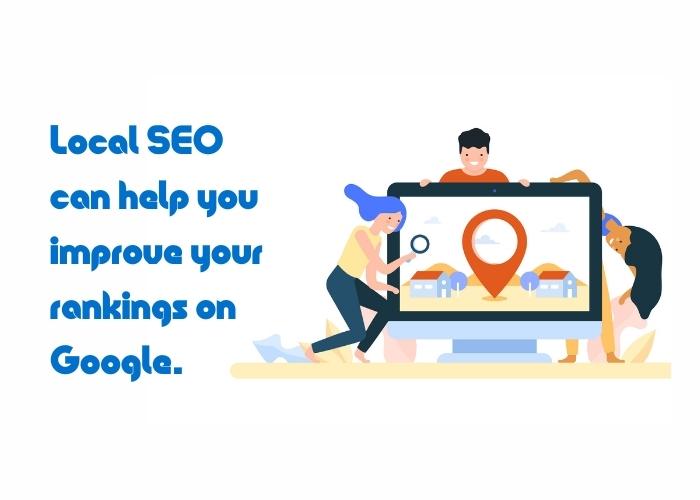 Local SEO can help you improve your rankings on Google, which makes it easier for people to find you on the web. This is especially important for local businesses because they often have fewer competitors than national brands.
By doing local SEO, you'll ensure your business will appear in the search results when people look up local businesses in your area immediately after storms. Local SEO helps you get more customers by giving them the information they need to find your organization on their own when they need your help the most.
Roofing SEO Services Guide for 2023
Roofing SEO is one of the most important aspects of a thriving local business SEO process. Here are some tips to help you get started in the new year:
Use a professional roofer's logo and website address. You can use your logo, a professional company name like "Your Local Roofing Company" (YLC) or "The Local Roofing Company" (TLRC), or any other clever name that describes you and your service. Make sure it has a clear and consistent message across all of your marketing channels and consistently use the same colors and fonts everywhere you promote yourself online.
The Basics of On-Page SEO for Roofing Contractors
Use appropriate keywords in your titles, meta descriptions, and body copy. Ensure that they describe what people will find on your website. For example, if you sell ceramic tile roofs, include the word "tile roofs" in the page title, meta description, and body copy so that Google knows what people will be searching for when searching for those products your company offers.
Make sure that the page has a good page ranking with relevant keywords in the top-most important SEO areas: Headlines (H1), Titles and Meta Descriptions, Subheadings (H2-H6), Body Copy, and URLs (URL).
Why Is Local SEO Important for Home Services Businesses Outside of Roofing?
Local SEO is important for all home services brands because it helps them to reach out to their audience with a targeted approach. When a customer searches for a local service in the area, they want to find a company that can help them quickly resolve a problem that's often adding to an already stressful week! Local SEO allows local services brands to reach out to their target customers and give them the instant help that makes them loyal, lifetime customers.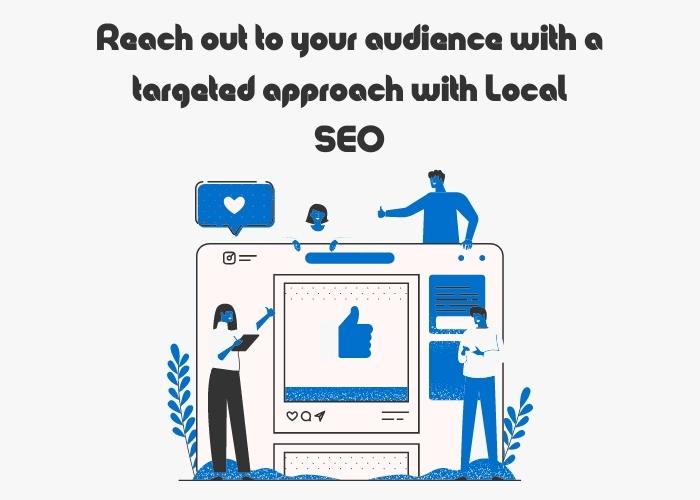 When a customer searches for a local service in the area, they are more likely to see your venture as an option than if they had visited your website from another city or state. The more people see your business through searches and online reviews, the more likely someone will choose you to complete a job or service. If your team does good work, the referral business will keep improving monthly, thanks to your local marketing efforts.
Local SEO helps home services businesses build brand awareness and credibility with potential customers. While some people may not know about you until they learn about you through local search results, others may be familiar with your trade and choose to hire you based on past experiences or recommendations from friends or family members who have used your services before. Suppose you do a lot of brand awareness marketing on traditional media. In that case, it makes sense to bolster those efforts by ensuring your website consistently appears at the top of search results when someone hears about you on a local TV or radio ad and wants to learn more about you online.
The Key Elements of a Successful Local SEO Business Strategy
When optimizing your website for local search, it's essential to do so strategically. Below are some critical elements of a successful local SEO strategy:
● Know where you want to rank in local search results.
● Develop an effective strategy for getting there.
● Optimize your content with keywords and snippets (or "snippets") that specifically target your area of expertise or service offering.
● Build a strong relationship with your customers by providing them with accurate information on their search terms and targeting them by those terms in their local searches."
● Create an anchor text-rich domain name (e.g., [your company]/local-searches).
● Use keyword-rich content on your website and social media pages like Facebook, Twitter, LinkedIn, and Google+.
● Add local venture listings in Google Maps, Yelp, and other directories that attract local consumers to your website or social media pages.
How Can You Improve Your Local SEO?
To improve your local search results, you need to do the following:
1. Make sure your site has a local address and organization name on Google Maps. This is important because Google shows local firms first in the search results, and it will rank better if it knows where you're located.
2. Use Google My Business as your directory listing if it's available for your location. This will help you get discovered by locals that may need the services or products that you offer homeowners.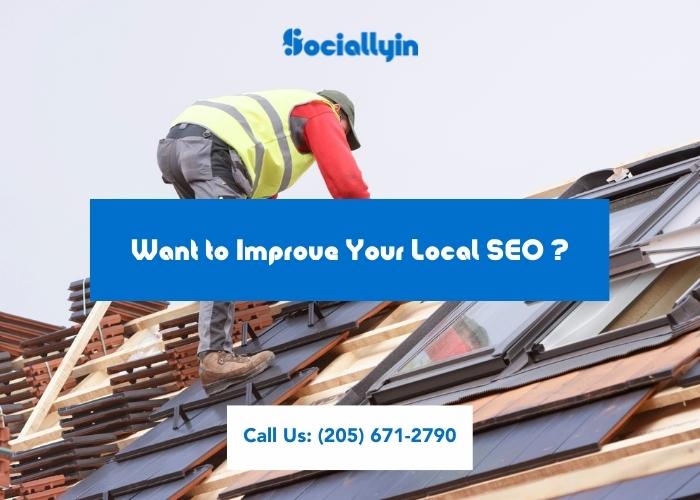 3. Register a domain name that includes your town or city name, if possible (e.g., "my business name-city.com" instead of just "mybusinessname.com"). The more specific your domain name is, the better your chance of ranking higher in search results because Google's bots will know precisely what they're looking at when they click on any result page from this website address or URL (uniform resource locator).
4. Make sure that all of the content on your roofing website has a call-to-action at the end of each article or blog post so that visitors know precisely what action to take next — whether it's contacting you for more information or scheduling an appointment with you.
5. Use keywords relevant to your firm in the title of your blog posts and optimize them for local searches by including " best roofers near me" keywords when writing about your services.
6. Link building. Build relationships with other websites in the industry by submitting relevant links using various commenting platforms such as Google, Facebook, LinkedIn, and Twitter
Why you Should Use a Reputable Marketing Agency to Promote Your Roofing Business
A reputable marketing agency is the best way to get your venture up and running rapidly, so you can focus on your core business. They will help you find the right keywords, determine what's essential to your audience and how to get those keywords in front of the right people. They will also help with content creation and other SEO strategies, so you can focus on replacing roofs. If you need assistance with lead generation for your roofing company, reach out to Webology today.