What are businesses that need SEO? Honestly, any business needs SEO (search engine optimization) if they care about the ROI of their marketing and advertising budgets. You can be one of the SEO success stories you'll read about below, but only if you decide to use this powerful technique to promote your business.
Some businesses need SEO more than others. That's especially true if they're in one of the most competitive SEO industries. Find out if you're in one of them as we deep dive into understanding the businesses that benefit most from SEO.
Industries Who Need SEO
Many industries can use SEO to get more business, but some need it more than others. Based on our 10+ years in the industry, professional SEO services are absolute rocket fuel for companies in the following sectors: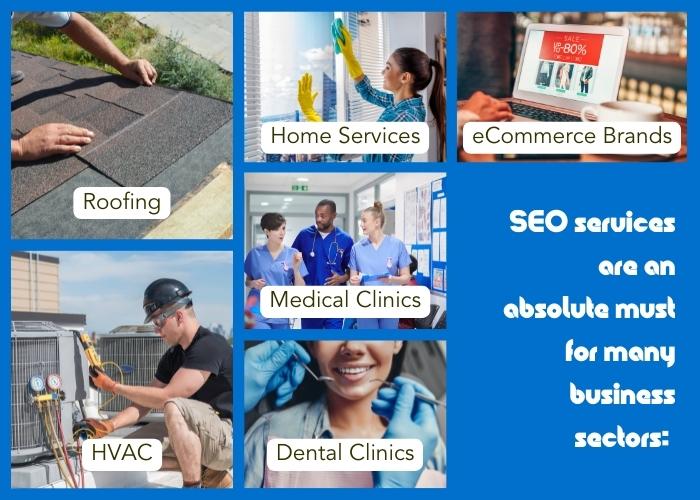 According to Webology: What Industries Need SEO the Most
Roofing: Ask a friend or family member to try and find your website on Google without using the name of your business. They instinctively input some local identifier to narrow things down to their region. Are you on the front page? If so, that's a great start. However, you ideally are above the fold. To get the most leads, you need to be in the top three links of the top half of the first page because this is where most of the traffic is going. Visual content is a huge plus here, especially for roof work you have already done.
HVAC: When homeowners need HVAC service, they probably want it pretty quickly, at least in the winter and summer in most markets. SEO can put your business's best foot forward and result in leads. When done right, those leads won't be something you have to get too salesy with once you talk to them because they should already be hooked by the time they are talking to you. Your online reputation and website should give them a sense that you are an authoritative and reputable provider of services they need. Furthermore, secondary SEO campaigns might drum up business in the spring and fall, when business might be a bit slower as you help homeowners do maintenance and repairs on their systems, either recovering from the prior weather, getting ready for the next season, or both.
Home Services: The bar has to be set pretty high for any home services business, especially anyone entering someone's home. You have to earn the trust of a homeowner if they're going to open their wallet and their front door. Website optimization is crucial here, but social media engagement and content creation matter. Those are the ways you show you care about your local community they are a part of and how you're an industry authority they can turn to.
Medical Clinics: Medical practices are another sector where local search plays a huge role. When the right SEO tools are applied, your medical clinic can stand out from even the strongest contenders in the area. Anyone looking for medical support around their site will use location names with the keywords applicable to the kind of medical clinic they need. That means local SEO is crucial for any medical practice that wants their community to know they are around.
Dental Clinics: Dental clinics are an industry where how many patients come in for appointments might depend on the SEO quality just as much as how good your team is. Anyone can look up dentists online in their area. Why should they choose yours over someone possibly closer or down the block? Use local SEO services and specific keywords to let them know what you can do for them other than just being another dentist. This can include teeth whitening services, Invisalign, cosmetic dentistry, family dentistry, and much more.
eCommerce Brands: If your company operates only online, your customer base is much broader than many others. Unlike businesses that get found using geo-targeted keywords, your target consumers are looking for your products and services using general or national terms. SEO is an absolute must because you will not make any sales without traffic to your website. Backlinks aren't enough. It would help if you had robust social media engagement, mobile website optimization, and heavy content investment. Your branding has to be a priority at every step along the way.
What Is SEO?
SEO stands for search engine optimization. It's a process of employing critical strategies to boost the value of a website. Keywords and backlinks are two of the most common techniques involved.
The idea behind all this is that your website appears on the first page of search engine results when someone looks for answers to what they need. Even better, you should rank highly on that first page. Google wants to provide its users with great resources, so SEO is helping convince the search engine giant that your business is one of those resources.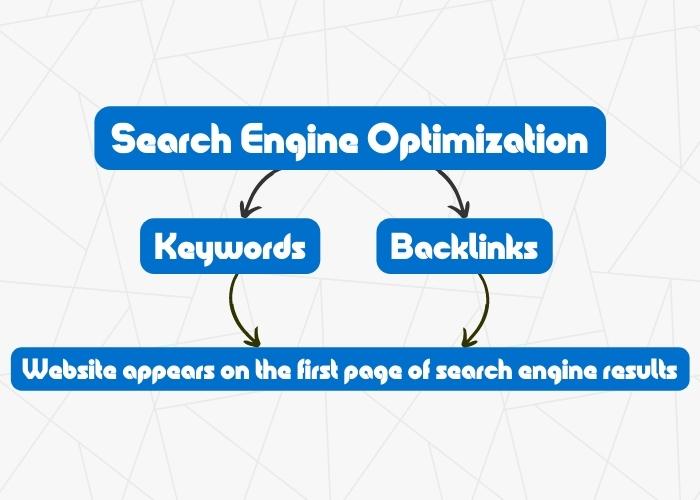 The struggle is that search engines are more intelligent than ever. It's not just how many backlinks you have but where they are pointing. They also analyze your website for the helpful content. Quality has become more important than quantity. Keyword stuffing doesn't work anymore. It can hurt.
Fortunately, modern methods can move your website up the ranks. You can keep up with your competitors. You can even pass a few of them along the way.
What Services Industry Does SEO Fall Under?
If you're wondering what industry SEO falls under, most sources generally consider it a part of the NAICS 541800 Advertising, Public Relations, and Related Services category. So, the SEO services industry is primarily concerned with matters related to organic advertising through outreach and content promotion.
In layman's terms, SEO is a process employed by businesses to make their websites rank higher on search engine results pages.
To do this, SEO specialists use keyword research, direct outreach, and backlinking techniques to improve a website's positioning in popular search engines.
What is Local SEO? Who Needs Local SEO the Most?
I was wondering what kinds of businesses need local SEO. Typically, having a local presence on Google Maps and in SEO results is most important for service-based businesses with a brick-and-mortar location.
Local SEO is a way to optimize your website for specific towns, cities, or regions. This optimization helps you rank higher when people search for relevant keywords on search engines like Google, Yahoo!, and Bing.
To attract local customers, you must ensure your website is optimized for local SEO. Here are some tips on how to do that:
Use keyword research to find the right keywords to target.
Optimize your website for those keywords.
Add your business listing to local directories.
Make sure your NAP (name, address, phone number) and other business info are accurate.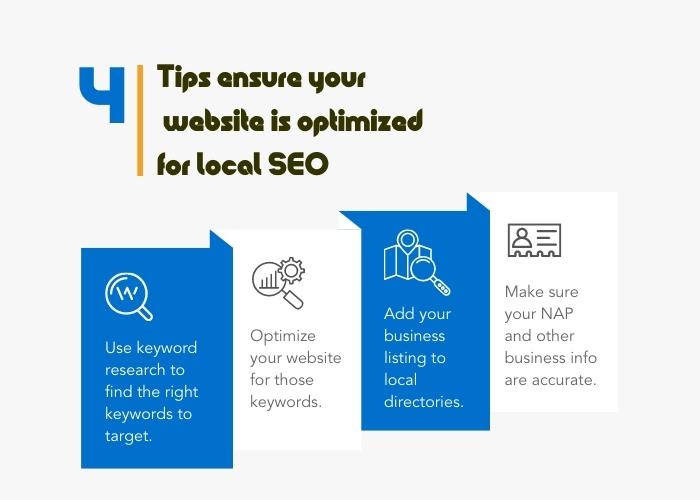 SEO Success Stories
When it comes to getting noticed in today's crowded online arena, your business needs to find strategic ways to make a breakthrough, and one great way is to rely on your content. It works like magic if you had an optimized SEO strategy for content to be seen by your targeted audience.
Not only will your improved SEO strategy raise your visibility online, but it will also lead to higher possibilities of converting website traffic to potential customers.
So, how can you improve your strategy and get ahead? Start with real-world examples or SEO case studies, which can provide you access to the best practices already proving successful online. Implementing SEO strategies and seeing successful results does take time. It's not an overnight get-popular fix by any means. That's precisely why one of the best ways to learn the tactics already working for other companies is to study SEO case studies like those below.
SEO case studies are real-world examples of how to successfully generate more organic traffic to a website, capture better leads, and improve conversion rates. By closely studying these SEO case studies, you can apply the lessons to your strategy development and generate more organic traffic to your website, capture better leads, and improve conversion rates.
Southern US Roofer Closes $3 Million in Record Month
Alabama Roofing Startup Sees Record Growth for Spot on Inc. 5000 List
HVAC Business in Southern US Experiences 1st Ever Profitable Q4
Cannabis Industry eCommerce Brand Sees 86.20% Organic Traffic Growth After Penalty Removal
Examples of Companies Using SEO Successfully For Several Years
SEO for companies is mandatory to avoid missing out on getting in front of a large audience. It leads to more sales, more revenue, and higher brand awareness.
Search Engine Optimization is essential for any company that wants to get found online. Customer attention span is decreasing, currently standing at nine seconds, because they have so many choices to pay attention to, and if yours is not pleasing enough, you will lose them instantly.
Companies that run online businesses need to make more revenue, attract more customers, and get better product reviews through their online presence. After a search query, the first page listed on Google search has a 28% higher click-through rate that anything else on the page.
It makes SEO for companies mandatory to avoid missing out on massive opportunities to get in front of new customers. All of this leads to more sales, revenue, and a healthier bottom line for your business. Let us understand what SEO is and why do you need it.
These charts from AHREFS show year-over-year progress for a few of our clients who have been investing in SEO for several years at this point:
Here are a couple of highlights from AHREFS:
The chart lets you see your most important metrics (referring domains, organic traffic, paid traffic, pages in the top 100) on one graph.
Comparison mode allows you to view the performance of multiple websites.
Paid traffic data is now included and gets better visibility in the Overview report.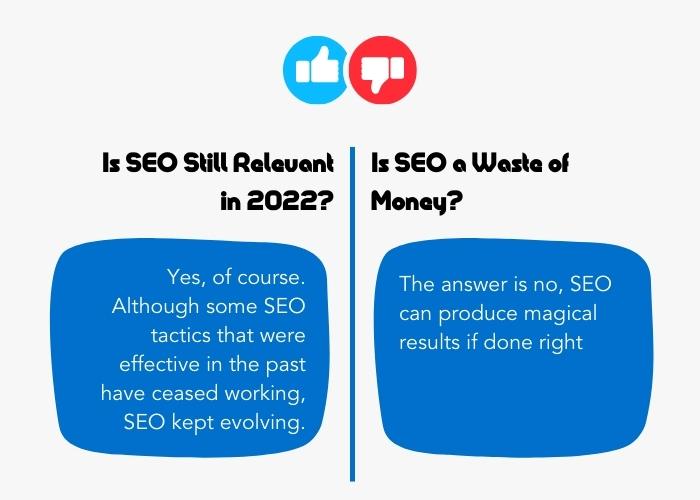 Failures – Is SEO a Waste of Money?
Your company is going down the SEO path, and you keep hearing about the benefits of Search Engine Optimization and success stories while learning about epic failures. So how do things pan out, and is SEO a waste of money?
In a nutshell, the answer is no, but that's also highly dependent on your budget and goals as a company, which is a topic we'll be covering in a future post centered around finding the best SEO company vs. the most affordable. And when it comes to SEO, Oscar Wilde hit the nail on the head: "I have the simplest tastes; I am always satisfied with the best."
The moral of the story: SEO can produce magical results if done right, but nowadays, there are a lot of smoke and mirrors. Look through the clouds and find the best solution for your company.
Is SEO Still Relevant in 2022?
Yes, of course. Although some SEO tactics that were effective in the past have ceased working, SEO kept evolving. Constantly reinventing itself to try and better match user intent, cutting the spammy, ineffective tactics to become better. Jul 27, 2022
A look at Google Trends for queries such as SEO Agency and SEO Consultant shows a remarkable upward trend, which means that SEO is not a dying industry. It's quite the opposite.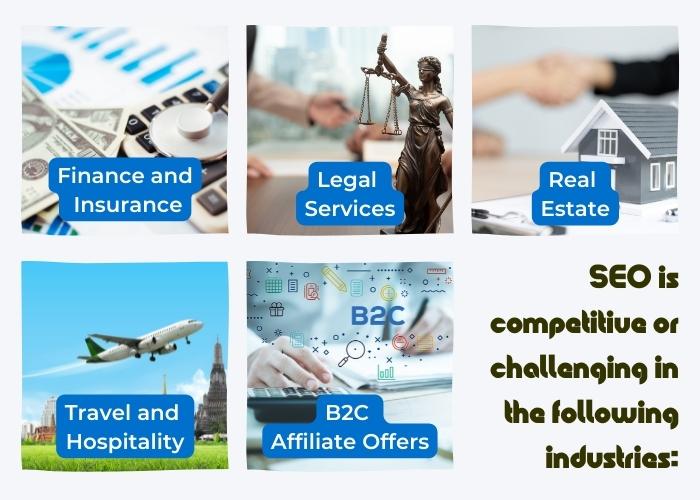 Worried About Keeping Up? Here's Our List of The Most Competitive SEO Industries:
A company focused strictly on SEO for over a decade; we've had the opportunity to try our skills in many different niches. Generally, we've found that SEO is competitive or challenging in the following industries:
Finance and Insurance
Legal Services
Real Estate
Travel and Hospitality
B2C Affiliate Offers
In some cases, it's not necessarily the competition but the regulatory challenges particular to the industry. For example, finance brands typically have a very restrictive legal compliance they must follow by law, which sometimes tends to limit keyword placement. You must be creative to overcome challenges like that in a rigid vertical.
We Can Help
You probably strive to be the best in your industry to earn a reputation and the trust of repeat clients. That's a proven way to make money in any field of business. However, if you're on this list of the companies that need SEO, then what you're good at isn't digital marketing.
At Webology, we are the best at SEO. Count on our services to get your website up the search engine rankings, traffic to your site, and conversions of those who visit. Please take advantage of our free website audit to find out what we can do for you without any obligation except for a little bit of your time.