Are you interested in the latest facts about SEO?
Maybe you're a writer looking for a source or a potential customer looking to justify the expense for your small business. Either way, you've found the perfect content and your search is over! I've used my 10+ years of professional experience in SEO to compile the most complete list of SEO statistics you'll ever find into one fact-filled article. Here's everything you need for your research in one place, courtesy of Webology. Let's dive into the statistics that prove just how valuable SEO services have become lately.
The Growth of Search Engine Optimization and the Google Search Engine
According to Search Engine Land, search engine optimization is something that you should view as a long-term commitment rather than a short-term fix for ailing traffic, conversions, and business. It's best if you looked at it as more of an investment than an expense. The marketing results are certainly there as we've shown in multiple case studies on specific client sites but it also helps to read generic search engine statistics that highlight the power of SEO in a broad sense, as I'll cover below.
SEO continues to grow and thrive with every passing year. There are thousands of various search engine optimization stats that you can look up, but you're probably looking for search engine optimization stats that convince you this is worth it all for your business, right? It can be more than a bit confusing these days! It used to be enough to just look at the organic side of Google search results, but now you need to also consider local SEO statistics, mobile SEO stats, featured snippets, and voice search statistics, too.
Which ones should you focus on for your own SEO efforts?
If you want marketing results that generate more clicks and traffic for your website, then you might find the statistics listed below of interest. They're current, factual, and quite relevant to anyone looking to boost their online presence.
Here's a great visual guide summarizing the key SEO stats we'll cover first:
10 Key SEO Stats to Know
What are the most important SEO statistics to know?
You probably know that the Google search engine accounts for more online traffic than all other search engines combined and that consumers seriously trust Google search results when shopping around. That's not to discount Amazon's equally large share of the eCommerce pie as you'll see in the image below, of course. There's a lot more to the world of SEO than just Google, so I recommend you also keep an eye on their competition for valuable insights. If you want the best marketing results possible, that's all useful information to know, but there's a lot more involved when it comes to picking the right internet marketing channels for your business.
The following are 10 key search engine optimization stats you need to know in 2023 and beyond: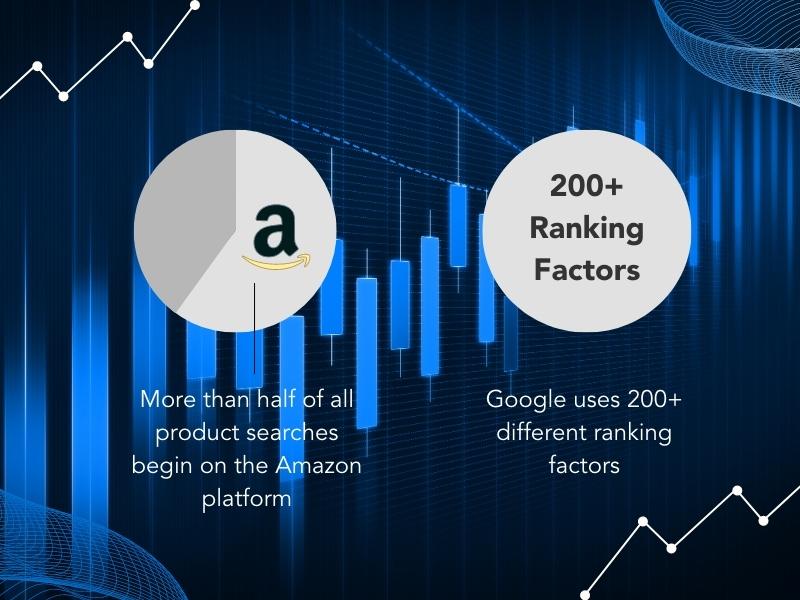 A typical first-page Google article has 1,447 words: Long-form content has already been dominating search engine ranking positions for several years. That means you need to avoid thin content and make sure your blog posts have depth and topical authority. This is obviously what online users are looking for, so deliver it to them. Google will notice.
Half of all online traffic comes from mobile technology: Does it seem like smartphones have taken over people's lives everywhere? It certainly has online. More than half of all internet traffic now comes from smartphones and tablets, but most of it is smartphones. This is why Google was ahead of the curve several years back when switching to mobile indexing and putting desktop websites on the back burner.
Half of all new online users are international: In an age when e-commerce can ship to nearly every country and digital products or services can skip international boundaries at the speed of light, reaching out to a global audience might be the big thing your business or website needs. While internet access isn't 100% inside the United States, it's still pretty high. Most new users coming online for the first time are in different countries, and there are still millions of people that have yet to be connected.
Featured snippets are a part of 12% of all search query result pages: These have been part of search since 2014, but their importance has been growing steadily since then. They're even more crucial for voice search. Over 40% of voice search answers utilize featured snippets to provide an answer.
BERT impacts 10% of all search queries: BERT is short for Bidirectional Encoder Representations from Transformers. It was a Google update in 2019. This update to the search model is an attempt at understanding search queries using language deemed conversation or natural. Google is using this to interpret query context and nuance. The search engine giant hopes to deliver search results that match user intent better thanks to BERT.
Approximately 15% of Google search terms are new: Have you just assumed that keyword gaps don't exist anymore? Think twice. New keywords are waiting to be squeezed for fresh juice. You can beat your competitors to them, and more of them are showing up all the time thanks to TikTok and other platforms where new concepts are introduced daily. Following those trends can unlock easy-to-rank keywords that no one was written about quite yet.
Google is BOSS: As stated earlier, Google commands the search engine market. They account for 70% of global search activity. Bing is second place, but they have less than 20% of Google's traffic. Yahoo is in the back of the pack at less than 2%, trailing several startups like DuckDuckGo and international competitors Americans outside of SEO circles have rarely heard of like Yandex. And by the way, we REALLY know a lot about Yandex these days! 😎 If you count video sites, then YouTube is number two, but Google (Alphabet) owns them anyway. 👀 The good news is that you only need to focus on one search engine to be successful, and that's Google. You'll inevitably do fine on the others as a secondary consequence because they track similar metrics, but the traffic you get would be negligible from those sources anyway.
Google processes 85,000 queries every second: Google doesn't share exact or official numbers, but those who track and estimate such things assume there are roughly this many each second based on what is known publicly about Google servers and online traffic. By the time you get to the end of this particular top 10 list, the internet will have had more than a million searches! And half of them will be brand new terms too. That alone should be the only statistic you need that tells you SEO is worth dipping your toes into as a business. Imagine how many of these will happen by the time you read this whole piece of content. That's not an encouragement to stop reading and get busy, because there are still plenty of useful stats you can use below if you keep going.
More than half of all product searches begin on the Amazon platform: While Google dominates general web queries, it's Amazon that wins product searches. The online shopping behemoth has quietly but steadily grown its prominence in this slice of the internet. It's now winning against Google in this particular category! Many consumers don't even use Amazon but want to learn product specifications, read reviews, and look at the overall ratings. That's where Amazon currently outshines Google.
Google uses 200+ different ranking factors: That's a very dated estimate, and most SEO teams suspect the actual number is a magnitude higher than the 1,922 factors we now know Yandex uses. The complexities of Google's algorithm will never be fully known, and it's always changing. However, constant testing and analysis show what works and what doesn't. There are about 200 identified ranking factors in the classic SEO models, but within those, you'll often find countless variables at play. The only way to understand what's working and what's not is to test and observe with the scientific method since Google keeps the specifics of the algorithm as a highly guarded secret. Good SEO teams are always looking forward to new trends, while also digging into the past to uncover insights from historic campaign data.
SEO Backlink Statistics
If you want fast marketing results from SEO, you should consider these stats about backlinks that successful marketers in the space already know.
Links continue to be a primary ranking factor and here's just a little bit of the evidence for that fact: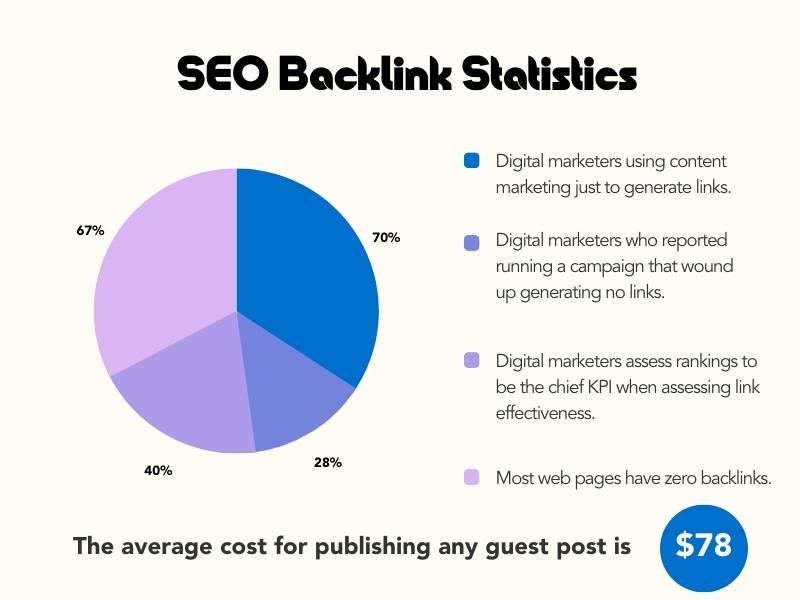 Over 70% of digital marketers utilize content marketing just to generate links.
Most digital marketers report that one content marketing campaign produces between one and nine backlinks.
Some digital marketers, 28%, have reported running a campaign that wound up generating no links whatsoever! How sad 🤦‍♂️
Just over half of all digital marketers utilize SEMrush as a link-building tool.
Over two-thirds report using Ahrefs for building links.
One-third of digital marketers would use Domain Authority if they only had a single metric by which to judge link quality and authority.
Almost 40% of digital marketers would assume rankings to be the chief key performance indicator when assessing link-building effectiveness.
Over half of the digital marketers think that guest posting is the best strategy for building links.
Nearly two-thirds of digital marketers prefer outsourcing the work of building links through outreach.
Nearly 67% of all web pages have zero backlinks.
The average cost for publishing any guest post is $78.
SEO Keyword Statistics
If you are wondering whether or not keyword research is still a big part of marketing results, then the answer is very much yes! Long-tail keywords in particular can drive more clicks and traffic to your website through careful SEO planning. If you use the right tools to find these keywords, you'll be rewarded with a content calendar that you can use to pull clicks from organic searches your competitors aren't even aware of.
In particular TikTok trends have become a goldmine for savvy marketing teams who identify new keyword opportunities for SEO from trending topics. Those terms will usually not appear to have any search traffic at all in 3rd party SEO tools because their databases have not caught up to the public interest yet! So, you can identify new topics before competitors and be first-to-market in a new SERP result.
That's just one keyword research tactic you can use when you understand how to apply these statistics below to your planning.
Long-tail keywords have a high click-through rate (CTR) that's 5% better than regular keywords.
The majority of modern search phrases are more than three words.
More than 92% of keywords are searched less than 10 times a month.
Search traffic often reflects contemporary problems or issues. The year 2020 was big for "how to cut your own hair" but 2021 saw an explosion in vacation research.
While a large percentage of searches belong to the category of 'long-tail' keywords, those terms are often easier to rank for. Savvy SEO pros know just how important it is to cover these topics thoroughly and build topical authority within their niche.
Local SEO Statistics
Search engines can be global in reach, but you can't dismiss the results of business content that caters to local searches. According to data from Statista and others, this is a very powerful marketing medium to tap into.
Nearly 17% of all Google searches look for local businesses and services.
Mobile queries for "right now" and "best" have more than doubled in the last few years.
Mobile queries for "near me" and "where to buy" have more than tripled in recent years.
According to Backlinko Nearly 80% of smartphone users looking for something nearby wind up using that business within 24 hours.
Over half of the American consumers research products via a search engine before making a buying decision.
Organic search is the stimulus of nearly 25% of all American e-commerce orders.
Over half of all Google searches are done using mobile technology.
It's expected that 75% of all online users will access content only using mobile technology by 2025.
Less than 1% of all Google users click through search results on the second page.
Conversely, the top five organic results on the first-page account for 68% of all traffic.
The number one result gets 40% of all traffic for that keyword.
Mobile SEO Statistics
Think mobile-friendly sites aren't crucial to results?
You might need to reconsider after reading these mobile SEO statistics. Nearly all digital marketers now understand that getting anywhere in search results means ranking your mobile website version before anything else. This is even more critical if you're the manager of a local business because as Backlinko notes, mobile voice searches are 3X more likely to be customers looking for a local business.
Here are a few more statistics to help you understand the importance of having a mobile-friendly website.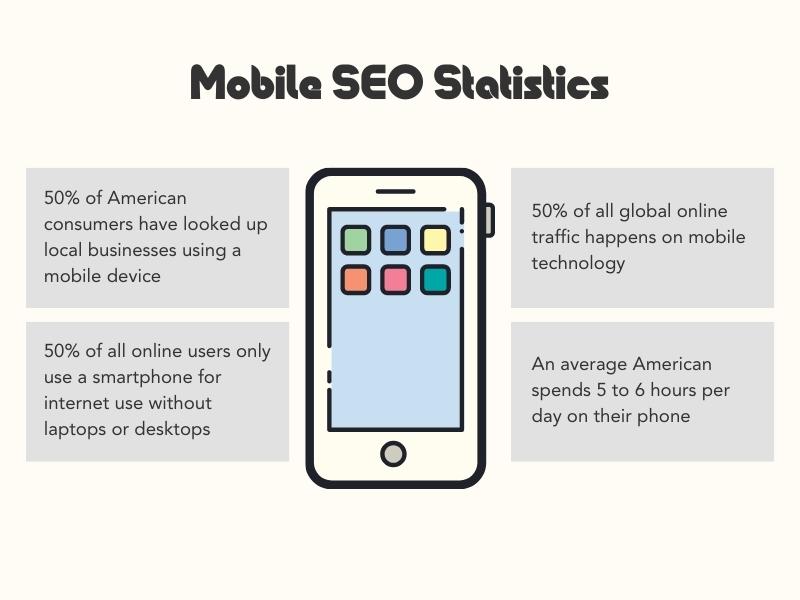 Over half of the American consumers have looked up local businesses using a mobile device.
Over half of all global online traffic happens on mobile technology.
More than half of all smartphone owners have discovered new products or businesses while searching for something on their devices.
Just over half of all online users only use a smartphone for internet use without laptops or desktops.
An average American spends 5 to 6 hours per day on their phone, and that doesn't count any work use!
Over half of the mobile website users abandon a site that needs more than 3 seconds for loading.
Searches focused on "near me" and "where to buy" have doubled in recent years.
Video SEO Statistics
Quite a few content searches these days are happening for video search results. Marketers who utilize video mediums are likely to enjoy marketing results that others aren't.
Specific video SEO statistics that you should know include the following:
The average first-page YouTube video length is just under 15 minutes.
Nearly 70% of first-page results on YouTube are HD content.
As your YouTube video gets more shares, views, comments, and likes, your rankings will also go up in YouTube.
Video is the primary content strategy format these days, having overtaken infographics and blogs.
YouTube is the world's second-biggest search engine, behind Google, which owns it.
Voice Search Engine Statistics
Analytics data shows voice search is finally taking over a lot of search results as indicated by Siteefy and also Review42.
If you want business marketing that drives traffic and clicks to your website, consider these nuggets of information:
The speech recognition software Google uses recognizes more than 100 languages.
Voice accounts for 20% of all searches.
Nearly half of all people utilize voice assistants.
Apple's Siri owns almost half of the overall voice assistant market.
More people use voice search than just voice assistants.
More than half of all people have used a voice assistant to find a restaurant.
Over two-thirds of all people have used a voice assistant to get directions.
Three-quarters of people who own voice-enabled speakers use them at least once a week to find a local business.
10 Common Questions About The Search Engine Market
While all this information is likely to answer a lot of your existing questions about search, you might wind up with a few new ones after reading this far. Here are a few more search engine growth stats we compiled just for you with the support of Moz and other reputable sources.
Is Google search use growing?: Yes. Google averaged 63,000 queries per second in 2016 but 81,000 in 2020. Total global searches in the same time frame increased from 2 billion to 2.5 billion. Monthly searches went from 167 billion to 212.
How many different people use Google on a daily basis: The average online user searches using Google four times each day. Interestingly, one study suggests only 15% of all online users search more than once per day in the United States. This overactive group is certainly driving up the numbers.
How many pages or sites are searched by Google?: Current estimates put the total number of global websites at 1.72 billion. They account for 58 billion unique pages Google has indexed. That's twice as many as Google had crawled or indexed in 2013.
How many people are using voice search?: Google data suggests that around 20% of all American Google searches are done using voice. It's assumed that half of the homes in the country have at least one smart speaker device. All smartphones are naturally capable of this kind of search.
How popular is mobile voice search?: Google says that more than 25% of everyone around the world uses mobile technology for voice searches. There are approximately 3.5 billion smartphone owners, and over a billion of them are utilizing voice technology every week.
How many people use smart speakers at home?: The average American household has 2.52 people, and there are more than 50 million smart speakers out there. Alexa competes back and forth with Google Home for dominance. Amazon has Echo technology that comes in behind.
How many Facebook video views happen each day?: Facebook has over 8 billion daily video views totaling 100 million hours a day. Around 98% of the traffic happens on mobile devices, and 20% of the videos are broadcast live. Interestingly, 85% of Facebook videos get looked at without sound enabled.
How many videos does YouTube have?: YouTube has more than 5 billion videos from 50 million different users. Every minute sees 500 more hours uploaded with the average viewer spending 40 minutes per session. Surprisingly, YouTube is alone among social media platforms not driven by mobile technology. Half of YouTube users are still on laptops and desktops.
How many local searches happen every month?: Nearly half of all searches feature some kind of local intent. That puts it at almost 100 billion local searches a month and more than a trillion per year. That's 37,000 local searches every single minute.
How does local search impact actual business?: Google says that local search queries result in 1.5 billion brick-and-mortar location visits each month. That represents 33% of all online users. The number that winds up spending money is nearly 80% when combining in-store and online purchases from a local business. Around the world, more than half of online users buy both online and off locally.
Search Engine Trends Any Good SEO Should Follow
You've read a lot of specific information in this roundup of SEO statistics, and hopefully, some of it will help your own marketing results online. Consumers tend to do business with websites that give them the best content, and that's a great general truth to always keep in mind when planning a search campaign.
However, there are specific trends worth noting in your current and future plans as technology advances:
55% of all homes in America use one or more smart speakers.
Voice search accounts for 1 in 5 of all Google searches in the country.
More than 1.1 billion smartphone users utilize voice technology at least once a week on a global level.
Bing already has plans to integrate some form of Chat GPT into search.
Remember what we said at the beginning of all these various search engine optimization statistics about timing?
It's an investment rather than an expense, and it pays off beautifully in the long run. A whopping 49% of marketers report that SEO has the best ROI out of all their channels, according to Backlinko.
Not only is SEO a viable way to grow your website and business but SEO is growing in itself with more keywords, websites, users, and searches happening every year than the previous one!
Anyone still writing those articles about how 'SEO is dead', should really follow the numbers that tell us a completely different story.
Thanks For Reading Our SEO Statistics Post!
And apologies if this guide wasn't the 5 min read you expected, but congrats for sticking through to the end! If you're a marketing director, you now have a better grasp on how SEO can help your company reach revenue goals. If you're a journalist, you're now armed with all the knowledge you need to craft the perfect SEO article yourself!
About Webology
If you'd like to learn even more about SEO, I would suggest you check out the rest of our blog where we post several times a month on topics related to organic search.
Webology is part of one of the fastest-growing marketing agencies in the United States.
Our company executives are all available for media interviews and we're proud of our thought leadership in SEO and several other marketing-related topics. Reach out to us today for further comments.