DuckDuckGo's attempt to differentiate from larger search engines with enhanced user privacy has been going quacking-ly well for them lately. There's solid demand for more secure search engine experiences because many of us are just ducking mad at big companies like Google and Meta for the ways they store our data. And while I wanted to grab your attention with a couple of silly puns that hopefully aren't too terrible, the rest of this post will be fact-driven and accurate. Today, we're taking a close look at DuckDuckGo statistics on everything from market share to the demographics of the average user. If you're looking for a good source on DuckDuckGo stats, keep reading as we review all the facts about the internet's top privacy-focused search engine and browser.
Statistic Details, Revenue Overviews, and Useful User Data
Overall Market Share: What percentage of people use DuckDuckGo? The privacy-focused company has made a splash in the search engine game, yet still only held 2.42% of the overall US market share at its latest peak.
DuckDuckGo Revenue Overview: Despite a small market share, DuckDuckGo managed to make real-world money. The company grew consistently since its launch on February 29, 2008. In 2021, they reported 5.8 million dollars in revenue and have stated that this is due to their focus on privacy-first search solutions. This selling point allowed them to become one of the leading search engines on the web, with an increasing user base year after year.
What A Difference One Decade Can Make for a Website!
Here are some interesting facts about DuckDuckGo:
It appears that 2021 was the "year of DuckDuckGo"! The search engine, app downloads, and extension platforms saw a six-digit usage surge in comparison to the past decade—an astonishing jump!
• DuckDuckGo has executed approximately 122 billion user searches over 14 years
• Search engines facilitated only 16.4 million searches during 2010
• The online platform processed 35.3 billion searches in 2021
• Between 2010 to 2021 the rise in searches is more than 200,000%
The Best Day Ever for (DDG)  Popularity – People Executed 111.7 Million Searches
DuckDuckGo's platforms have experienced a bit of flight turbulence during 2022, but that's coming off the heels (or webbed hallux?) of their best year ever in 2021. Records show the highest level of search engine activity happened early in that year. Afterward, the figures take a bit of a plunge. This doesn't point to any serious trouble, and may just be related to the news cycle at the time. The dip itself is positioned at the steep end of an increase of overall search engine use during the pandemic and in my opinion, that skews the data by a significant amount.
• Records from March to April 2022 show less than 100 million daily searches made on DuckDuckGo.
• The number of searches increased by 1.2 million by August of the same year.
• The best on record is January 17th, 2022 with 111.7 million user searches.
DuckDuckGo Stats on Search Engine Queries in 2022 (January – August)
January – 106 million
February – 105.5 million
March – 102.7 million
April – 97.7 million
May – 96.3 million
June – 93.2 million
July – 92.4 million
August – 93.6 million
(Source: DuckDuckGo)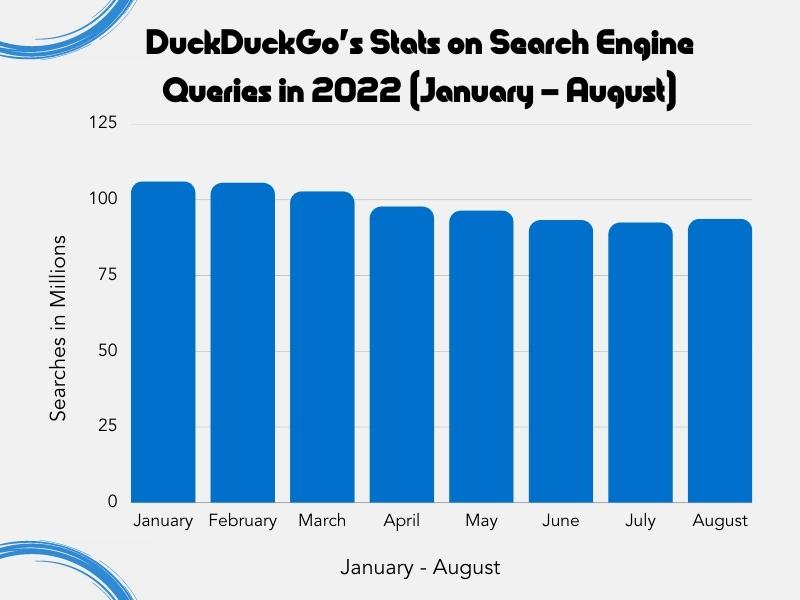 Basic Categories of a User Base
DuckDuckGo's privacy-first approach has been instrumental in building an extensive user base. They have over 100 million active monthly users from all corners of the world, reaching people from a diverse range of backgrounds and ages. The company provides data on the main demographics of its user base, along with other statistics that we've gathered from around the web below.
• The DuckDuckGo user base has been estimated to be 70 to 100 million in 2021 (Source: Spread Privacy)
• DuckDuckGo platform users consist of men (73.3%) significantly more than women (26.7%)
• The age range of most desktop users is between 25 to 34, which represents 26.42% of the
• The second largest demographic is made of 18 to 24-year-old users (19.37%)
• Ages 65 and older make up 8.93% (Source: Similarweb)
Worldwide Percentage and User Base
After reading all these glowing stats we've covered so far, it's only fair to wonder how well DuckDuckGo competes in the search engine market across the globe. It's only the 6th largest search engine in the world behind Google alternatives like Bing and Yahoo. With the majority of users based in the US, is there a major market share in any other countries or not? Surprisingly, yes! The 2.25% share in the US is dwarfed by DuckDuckGo's search engine adoption rates in the UK and Germany. Canada also comes in strong at 4.48%.
DuckDuckGo users based by region:
• US users make up 49% of users
• UK users are 5.36%
• German users come in at 5.12%
• Canada holds 4.48%
• France is 2.48%
• DDG gets 0.71% of the global search engine market share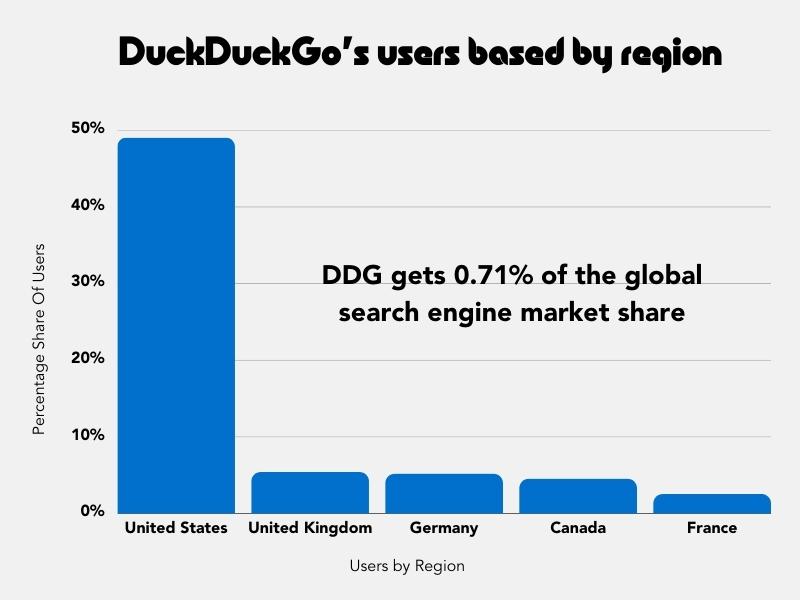 DuckDuckGo market share by region:
• Europe 0.64%
• Oceania 0.75%
• Africa 0.11%
• South America 0.12% (Source: StatCounter)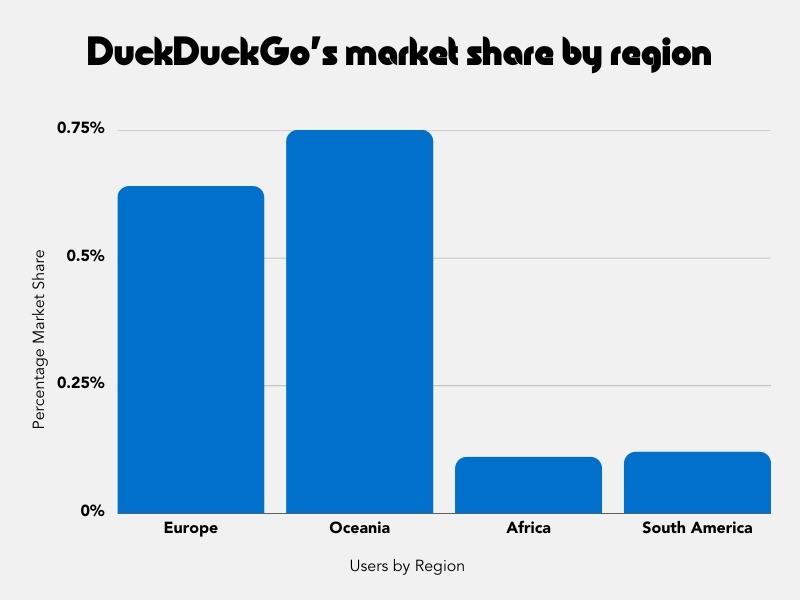 Millions and Millions of Daily Search Queries
On the surface, the stats for DuckDuckGo users and platform services don't appear too outstanding, and it might be fair to assume the company looks like and quacks like another futile attempt to go up against Google. Upon closer examination, the scale of searches made by users represents a niche market that demands privacy from the big companies providing online tools. This is especially true in the realm of mobile apps. The mobile search market is where privacy is all the more important to everyone walking around with a social security number.
• 63.1% of DuckDuckGo traffic is generated by mobile users
• Their application platform has seen 10 million downloads in 2021
• DuckDuckGo's homepage receives an estimated 16,120,000 visits per day
• The online platform sees more than 15 million visitors daily
Finding Funding and Partnerships
The general public is a little slow on the take when it comes to the data security potential of DuckDuckGo, but that's rapidly changing. Just like the 8-bit dog in the classic Nintendo game Duck Hunt, they're often running off in the wrong direction lost and confused, but big data breaches in the news are starting to focus everyone's attention on security issues. Right now, many are pointing a finger at the privacy-conscious among us just like that same dog did whenever someone walked in front of the TV and we missed our target as kids, but eventually, the general public will come around to the idea of enhanced security. More people will at least consider DuckDuckGo as an option versus Google. At that point, it becomes a matter of personal choice and while most of us will likely still choose Google, there's a valuable niche here that cannot be ignored.
Smart money also says this company is a good bet. The partnerships that started it all in 2008 have grown to include more than a dozen new investors by 2020.
• DuckDuckGo received more than $110 million in funding in 2020
• The top investors include enterprises like Tim Berners-Lee, Thrive Capital, and OMERS Ventures (Source: StatCounter)
• Private searches on the platform can reach up to 20 million daily Source: Spread Privacy
• Internet privacy organizations have seen $1.1 million in donations from DuckDuckGo in 2022 (Source: DuckDuckGo)
Financial Funding Makes all the Difference
DuckDuckGo's stripping of history tracking is not just another method for maximizing profits or edging out the competition through clever PR. This protocol was a cornerstone policy and philosophy for the company. That's why DuckDuckGo gives financial contributions to just as many organizations as it receives funding from, if not more.
DuckDuckGo has donated 1 million dollars to the following organizations:
• The Center for Information Technology Policy (CITP)
• Electronic Frontier Foundation (EFF)
• European Digital Rights (EDR).
(Source: DuckDuckGo)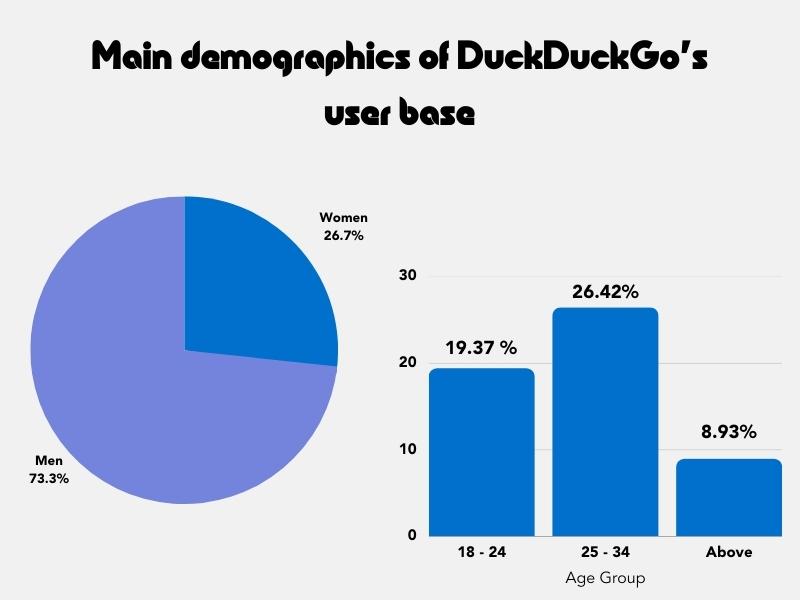 Mobile Usage vs the Desktop Market Share
Looking back to 2008, DuckDuckGo had the vision of becoming a go-to search engine for users of all kinds of devices – even the emerging ones. Fast forward to 2021 and it's no surprise that DuckDuckGo is booming with mobile users – so much in fact, they now make up an impressive 63% compared to just 39.1% of desktop users! As a mobile search engine – It looks like this duck has taken off, soaring high into success-ville 🦆
(DuckDuckGo, Eyerys)
Just a side note:
• The most critical aspect of engineering a digital platform is the expertise needed to code lines that affect protocols for interfacing with other software and programs. That talent takes up a large portion of a startup's budget in this space, so understand that the funding we'll look at next was critical to the early success of the DuckDuckGo search engine.
How Things got much better for DuckDuckGo
The growth of DuckDuckGo can be directly correlated to the amount of funding the service receives over time. One year after removing history tracking, the business got a little boost of money from the earned PR. Just seven years following that, more cash was added to the pile – more than triple the original worth and a fortune to make the likes of Scrooge McDuck envious. 🤑
• Initial funding in 2011 totaled 3 million
• Follow up funds in 2018 equaled 10 million
(Source: Crunchbase)
Estimates and Projections of Growth
Due to DuckDuckGo's privacy-first approach, their search engine traffic is growing at a steady rate each year. This growth can be seen in the current estimated 16,120,000 visits per day. What this means is that privacy advocates and digital privacy groups like EFF and EDR have had their efforts validated by an ever-growing user base of privacy seekers looking for alternative solutions to big tech companies.
• DDG will see continued growth due to its privacy-first policy Source: Statista
• Search engine could surpass 25 million daily searches by 2025 Source: NectarOM
• Currently handles more than 15 million searches a day Source: DuckDuckGo
As it stands now:
• App downloads reached 400,000 in February of 2021 within Google Play Store
• The all-time download total exceeds 10 million (Backlinko)
• Between its founding in 2008 to 2014, only ten members were added to the team (DuckDuckGo)
Growth in the US Search Market
The privacy-oriented search engine has maintained a steady growth in its US market share, much of which is attributed to the privacy policies it follows. As of 2021, DDG's US market share stands at 1.58%, and most analysts predict that this number could grow significantly over the next few years.
Some reports suggest that DuckDuckGo's privacy policy could allow it to gain up to 10% or more of the US search engine market! That would place them in second place behind Google Search (with roughly 92%) while relegating Bing and Yahoo search to lower rankings. (Source: NetMarketShare)
• DDG has been in control of 1% of the search market in the US since 2019
• The record for February of 2021 stands at 2.44% (Statista)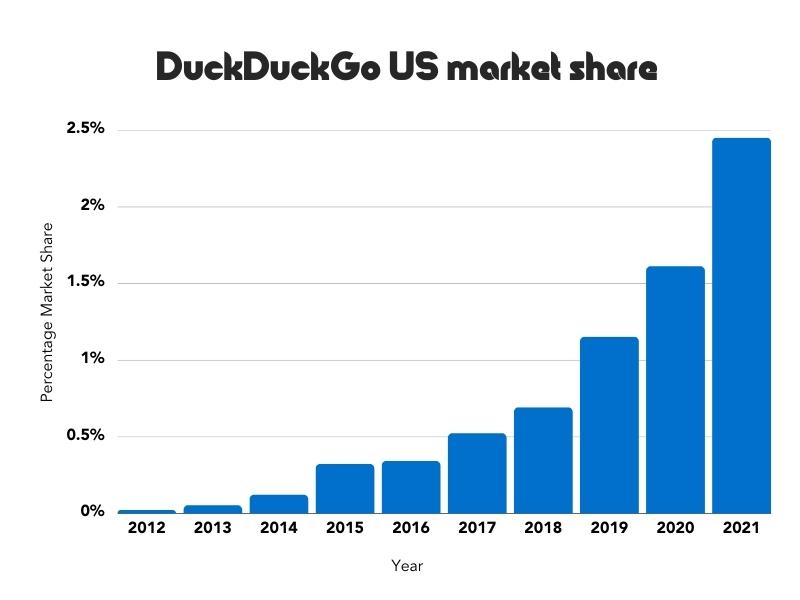 Growth Spurts that Don't Hurt
DuckDuckGo's privacy policy is its biggest draw, but the engine has seen some major improvements that have caused further growth.
• An increase in the number of supported languages from 10 to 64
• A revamped user interface (UI) updates and design changes Source: Backlinko
• The introduction of topics related to privacy awareness such as "Privacy Basics" which can be accessed directly from the homepage (DuckDuckGo)
• Support for mobile apps on both Android and Apple devices Source: Backlinko
These features allowed DuckDuckGo to gain traction while still maintaining its privacy-first stance, resulting in an impressive growth streak since 2018. 📈
• Starting in 2015, queries have seen an increase of x 9
• The most steady growth has happened between 2015 through 2020
• DDG searches have seen a jump of 35 million between July 2020 and January 2021
(Backlinko, DuckDuckGo)
• The revenue on record for 2020 is 100 million dollars (TechCrunch, Spread Privacy)
Big Tech Market Shares Beware
With privacy becoming an ever-important topic of discussion, it's no surprise that DuckDuckGo has become a viable alternative to the privacy policies of other search engine giants. People are beginning to take privacy more seriously, and this is reflected in the growth of DDG's market share within the US and elsewhere.
• The DDG global market share has seen growth three times over between 2017 to 2021
• In 2017 the search engine's global market share is recorded as 0.18%
• 2021 boasts to 0.63% worldwide (Backlinko, Statcounter)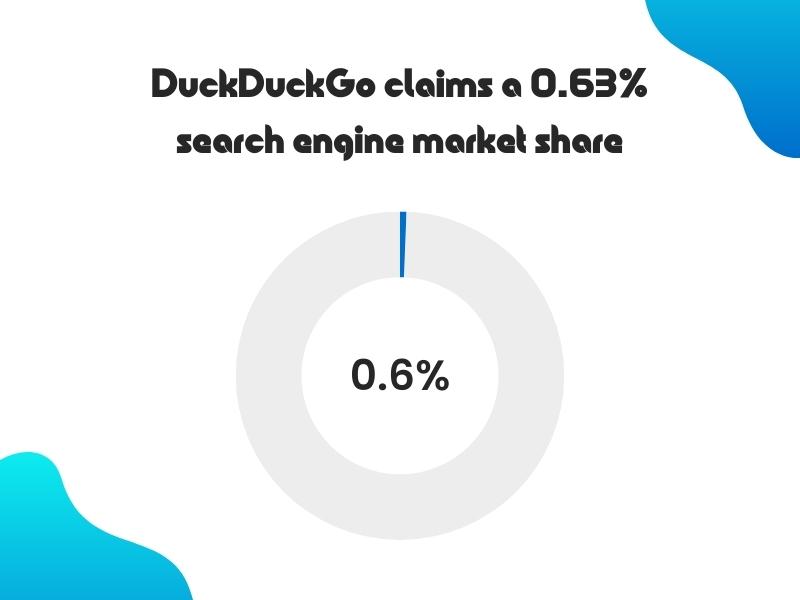 When it comes to the search engine users choose to use on their mobile devices, page speed matters a lot. But the privacy-focused search engine seems to be keeping pace there, while also offering enhanced privacy. DuckDuckGo racks in no more than three percent in the United States, according to data collected in 2021. This doesn't sound like much until you compare it to the one-tenth of a percent earned in 2013.
• Between 2013 to 2021, the DDG mobile market share went from 0.01% to 2.42%
• The greatest increase of 1.52% has occurred from 2020 -2021 (Backlinko)
Multimillion Dollar Net Worth
DuckDuckGo has grown steadily over the years and is now worth an estimated $900 million to $1 billion. The privacy-oriented search engine raked in reported revenue of $25 million in 2019, followed by a further increase of $30 million in 2020, with 2021 expected to see even higher profits once the numbers are all out.
This growth could be accelerated in future years as privacy concerns continue to rise and more privacy-oriented search engine options are sought out by consumers.
• DuckDuckGo's website domain alone holds an estimated worth of 900 million! (Source: Worth of Web)
• The search engine platform is 201st in the world and 106th in the United States
DuckDuckGo has been on an incredible journey since 2018, with a steady increase in market share and estimated net worth skyrocketing to 900 million dollars! The privacy-first approach of the search engine combined with impressive revenue increases from 2019 – 2020 has allowed it to gain traction with the general public. It's no surprise that this online powerhouse is expected to reach 10% US market share soon.
DuckDuckGo Looks Set for Another Epic Year in 2023 Thanks to Browser Offering
Thanks to their browser venture, popularity for the overall brand looks set to grow in 2023. Their browser is now available in the Play store for Chrome OS devices.
DuckDuckGo Browser Market Share
While there are not yet any current studies on the overall market share of DDG's browser offering, we found the following information on their Play Store link.
10 million+ downloads
1.84 million reviews
On Apple's platform the app ranks #18 under the Utilities category. Users on both platforms rate DuckDuckGo highly with close to 5 Stars and thousands of reviews at the time of writing. Here's a few more frequently asked questions we came across in our research:
Does DuckDuckGo Have Analytics?
No, DuckDuckGo does not have a built-in analytics platform for site owners because they do not track user data. However, you can get an idea of your overall traffic from DuckDuckGo by viewing it as a referral source in Google Analytics.
What is the Downside of DuckDuckGo?
From a privacy standpoint, users should be aware that their employer or internet service provider may still be able to view traffic. Downsides from a product standpoint are a limited budget for research and development of new technologies compared to the amounts Google invests in user experience improvements. You may find that the same search term yields vastly different results between the two.
Thanks for reading and feel free to reference this post in your own research. You might also want to check out our article covering US eCommerce statistics by State.
About Webology
We're a part of one of the fastest growing marketing agencies in the United States with offices in Georgia, Alabama, California and Texas. Webology follows all the latest trends in digital marketing. If your brand needs help getting to market online, take stock in the fact that we have over 70 years of combined experience in SEO. Our team can help you rank higher in search queries, no matter which search engine you choose to target.