PPC trends are ever-changing. For your businesses to stay one step ahead, you have to stay on the lookout for new developments. Pay-per-click advertising offers the possibility of increasing both traffic and engagement rates, but your ad efficiency just isn't a priority for the platforms you serve ads on. Google and other PPC platforms seem to always be taking control out of the hands of advertisers, so you have to constantly test and measure settings against your chosen KPIs. In this post, I'll go over some of the most recent trends in pay-per-click advertising (PPC) that you should be aware of, as well as how those trends might help you develop your own PPC  advertising plan.
PPC Trends for Businesses to Follow in 2023
The following is a list of some of the most recent developments in PPC that you should think about incorporating into your strategy in 2023. These trends can help you maintain a higher ROI, even when you have less and less control over campaign settings.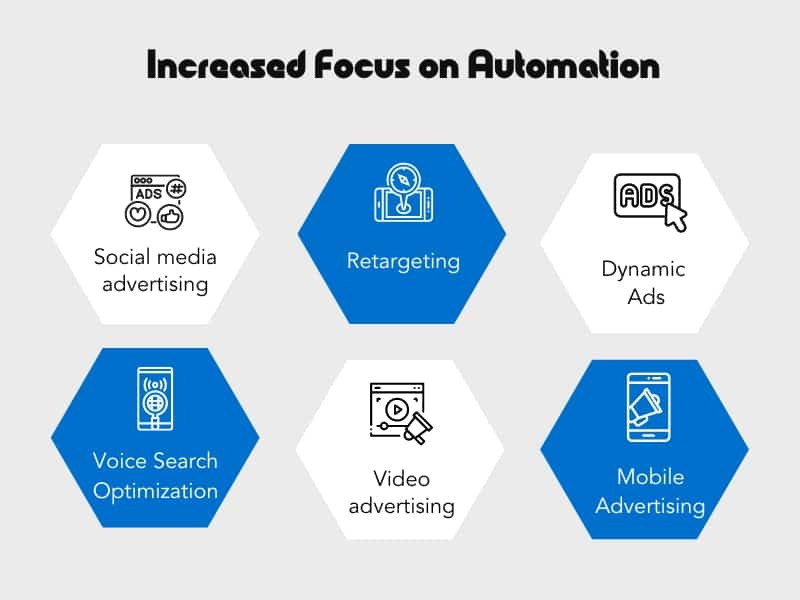 Increased Focus on Automation
Automation is becoming a necessity in the pay-per-click world. With automation, you can set up campaigns quickly and efficiently, allowing you to optimize your ad spend without having to manually make changes. Additionally, automation allows for better targeting, since it can utilize data from previous campaigns to tailor ad copy without you having to do all the writing from scratch.
Social media advertising:
Using social media platforms to advertise is one of the best ways to connect with your target market. There are many different social media platforms available, so it's crucial to pick the one that is most applicable to your company. For instance, LinkedIn might be a wise choice if your business is in the B2B space. Additionally, pay-per-click ads on social media platforms allow you to target users based on their interests, age, and gender. That's important because while search ads are great for targeting specific keywords, your control over audience demographics is limited.
Retargeting:
Retargeting is one of the most effective pay-per-click strategies available today. Retargeting involves targeting users who have previously visited your website or interacted with your brand online somewhere. By retargeting these users, you can remind them of your brand and increase your chances of conversion.
Dynamic Ads:
Another great pay-per-click trend is dynamic ads. Dynamic ads allow you to customize the ad copy based on a user's previous activity or interests. This kind of personalization helps ensure that users are seeing content that resonates with them, which increases engagement and leads to more conversions.
Voice Search Optimization:
Voice search optimization is becoming increasingly important for pay-per-click campaigns as well. With voice searches becoming more popular, you have to make sure that your ads are optimized for voice search queries. To do this, try using longer-tail keywords in your ad copy.
Video advertising:
Advertising using videos is another efficient method for reaching one's intended demographic. YouTube is by far the most popular video site, but there are other options such as Facebook and Instagram to choose from. Video ads allow you to provide more information, engage with viewers and increase conversions.
Mobile Advertising:
The percentage of people who access the internet through their mobile devices continues to rise. Because of this, companies need to make sure that their advertisements are suitable for viewing on mobile devices.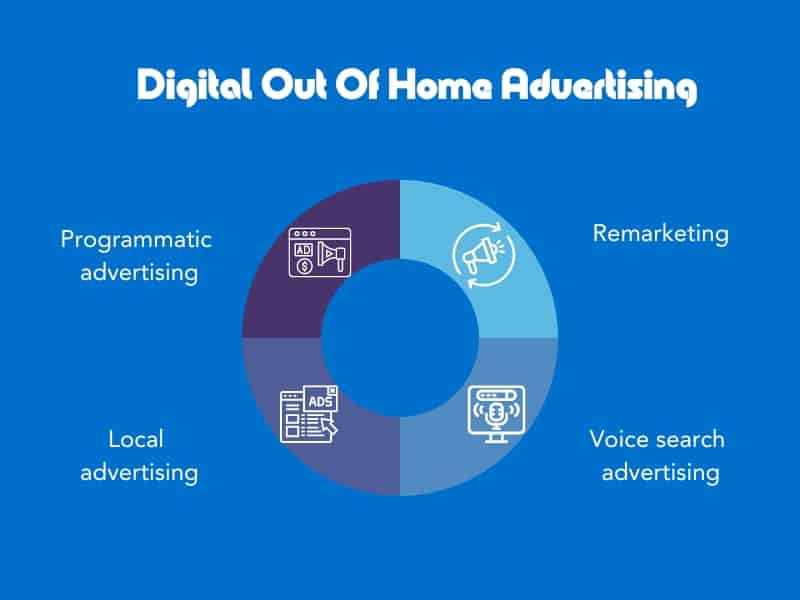 Digital Out Of Home Advertising:
Often referred to as DOOH, this pay-per-click trend involves using digital displays in places such as retail stores, car tops, airports, and malls. DOOH advertising can be used to target people who are in the vicinity of the display with highly location targeted pay-per-click campaigns.
Programmatic advertising:
Programmatic advertising is a sort of automated marketing that makes use of data in order to focus on a particular demographic of consumers. Because it is more time and cost-efficient as well as more effective than more traditional approaches, this form of advertising is becoming increasingly popular for brands in many different verticals.
Remarketing:
Businesses can display advertisements to consumers who have already visited their websites through remarketing, a type of targeted advertising. Reaching out to potential clients who could be interested in your goods or services in this way is efficient.
Voice search advertising:
Voice search is growing more popular as consumers use voice assistants such as Siri and Alexa to do things such as internet searches and purchases. This trend is expected to continue, therefore firms must ensure that their ads are voice search optimized.
Local advertising:
Local advertising is a type of focused advertising that allows firms to target customers in a specific geographic area. This is an efficient method of reaching out to potential clients in your area, and one great application of this trend is to place ads on Google Maps. 
Businesses must stay current with the most recent trends to stay ahead of the competition because PPC is susceptible to dynamic changes. The trends mentioned above are only a few of the most recent ones that you should think about incorporating into your PPC strategy. By doing so, you can ensure that your pay-per-click campaigns are successful and efficient.
Social media advertising is undoubtedly one of the most popular pay-per-click trends right now. By targeting users who are likely to be interested in your product or service, you can reach more potential customers and increase conversions. You should also utilize retargeting, which targets users who have previously engaged with your brand online.
Let Webology Manage Your PPC Campaigns
Our pay-per-click specialists at Webology are constantly staying up to date on the latest PPC trends to make sure that our client's campaigns are always running smoothly and efficiently.
We use data-driven strategies, advanced analytics, and an extensive understanding of the pay-per-click landscape to provide you with comprehensive pay-per-click optimization services. With Webology, you can be sure that your pay-per-click campaigns are utilizing the latest trends and tactics to get the most return on your investment. Contact us today to get started.