Schedule a free SEO Consult Today
SEO Company Birmingham, AL
Search Engine Optimization Services by Webology
Best SEO Agencies that Deliver? Check us out:
Looking into SEO Search Engine Optimization
You're not alone. SEO leads are 🔥
People looking for everything from a local electrician to dog sweaters on Amazon use Google and other search engines to find what they want to buy.
The fact that these prospects are actively looking for a product or service likes yours makes them highly qualified buyers. Here's just a few of the reasons why SEO leads may bring a higher ROI over other forms of advertising:
Highly informed and educated buyers
Faster sales cycle times
Better retention rates
but how do you get started? More importantly, how long will it take to earn that coveted spot at the top of Google search results?
Download our comprehensive SEO guide
SEO – Search Engine Optimization
A top lead generation strategy for your brand
SEO doesn't have to be a mystery. It's an internet marketing discipline with one primary goal:
Driving targeted traffic to a website to sell a product or service.
How we do that can seem mysterious at first though. With all the talk of different 'hats' and gurus, it's easy to think of SEO as some sort of online marketing magic that only a few understand. That's just not the case though.
Google defines SEO as helping search engines understand what a web page is all about. That one statement really sums up everything we do as SEO's.
If Google can't understand the topic of a webpage, they have no way of ranking it against other pages for a given topic. Ethical SEO is simply the practice of helping search engines like Google to better understand (and rank) content in their SERP (Search Engine Results Pages). That's what we do at Webology. We connect brands with their customers through organic search.
Webology – Legends of Search
SEO is a powerful lead generation tool for any business, and we're legends at generating traffic from organic search for our clients.
Webology Drafted to Elite Roster of Agencies
Ever wonder why some agencies seem to just have Google all figured out. It's almost like they have insider knowledge of the algorithm, but that's not likely. Google guards those secrets just as well as Coca-Cola guards the recipe to a perfect soda. So what gives? What's the secret ingredient that's making our results so good?
We absolutely DO know more about the algorithm than most. That's because we rely on data science while other agencies struggle with 'best practices' that simply do not work anymore. Data analysis is the future of marketing and we're proud to bring you that future today. There's no code to crack, just lots of work to do. We're masters at using tools like Page Optimizer Pro and CORA to win through scientific testing and evaluation of competitor averages.
Procedure Driven Search Engine Optimization
Our SEO methods work for any industry in any location
There's no need to ask if we've worked with (name your vertical) before. Chances are, we have but no matter what, our processes work. E-Commerce, local business, retail chain, it's all the same.
Strategies change slightly, but everything comes out of the same SEO playbook.
We start with technical SEO and on-page strategy as the foundation of our campaign. Things like Google LightHouse Audits and SEMrush Site Audits allow us to correct any technical errors early on.
While our developers are busy working through those audits and adding in structured data to your site code, our SEO team works with the content team to identify existing pages, suggest new ones, write content and develop a keyword strategy for each and every main page. Here's a typical task list for the first month of a campaign:
This is all foundational stuff that you build on. SEO work never ends, the leads just get better with time though.
Now that we've built the foundation for your campaign, we have to continually improve your digital presence. For local businesses, we focus on Google My Business optimization & posting first. We follow that up with
complimentary Yext management
combined with manual submissions to over 200 important citation sites.
If it's a national retail or E-Commerce campaign, we might skip citations and proceed immediately to 100% white hat (Google Update Safe) link-building strategies. We do 100% outreach driven link-building to boost the digital authority of your brand.
That's honestly a question we'd like to help you answer on a free strategy consult. In many cases, SEO might not be the best digital strategy to start working on right away. If you need an immediate return on investment, a combination of PPC and retargeting of website traffic in social media might make the most sense.
Once you scale those lead generation sources up and optimize your campaigns, reinvesting some of the profits into SEO makes perfect sense in almost every case. It's just not the first thing most people think of when it comes to advertising.
Let's be real…In a good year for the industry, you'll be hard-pressed to find 2 out of 10 people on the street who have even heard of SEO.
And last year wasn't the best for SEO, but that's all changing. Paid strategies seemed to dominate the conversation around online marketing. But SEO is an established discipline that's beginning to come back into the forefront, as the spammy Black-Hat SEO tactics from before 2014 are just a distant memory.
Brands and agencies alike are crowding back into the SEO space as Google continues to enhance the page #1 experience with featured snippets, knowledge panels and shopping carousels. Welcome back everyone! We missed you.
A lot has changed, but one thing remains the same. SEO works well for both B2B and B2C businesses because it targets user intent verses going after a specific audience with an ad that might or might not resonate. Instead, we create amazing content that satisfies a user's search for knowledge. People seeking an answer in a search engine are an active audience. They're looking to buy. That's why SEO leads are so powerful. SEO is earned media that deserves a spot in your lead generation arsenal.
What makes SEO unique from other Internet Marketing Disciplines?
SEO is completely unique in the online marketing world. We don't pick audiences from a list. We never have to worry about paying for clicks, and
the traffic we capture is almost always at the point of making a purchasing decision.
PPC & SEO
– What's even better about SEO? It works hand-in-hand with all your other advertising efforts. Pay-per-click or PPC for short, is no exception. PPC ads shown above an organic listing in Google search results for the same brand increase that brands overall impression share in the page #1 results. They work together to generate more leads.
PRO TIP: 
If you're a local contractor and it's available in your industry, get Google Guaranteed immediately.
Social Media & SEO – Let's be 100% clear about this next point. Social signals don't always move the needle as much as some of the  "SEO Gurus" would have you believe. Social signals alone will not rank you for a competitive term. But it is a ranking factor because Google is looking at metrics like this to see just how big your brand is compared to the competition. Larger businesses have the resources to be active in social media. Being active in social media will enhance your SEO results.
Paid social ads and community management campaigns can help improve your SEO results indirectly by allowing you to observe how social traffic interacts with your website. This allows you to optimize your user experience accordingly. If you're already getting a good ROI from social media, adding SEO into the mix will help your brand capture even more inbound leads.
Traditional Advertising & SEO
– Print, TV, and Radio can even work with your SEO efforts. Leveraging traditional advertising to generate brand awareness will not be as effective if you can't even rank for your own brand name. Make sure your site is properly optimized and that you dominate the first page of Google for your branded keyword before investing in a brand awareness campaign.
How do you create an effective SEO strategy?

So how do we make Google understand your website better? The classic understanding of SEO tells us there are about 200 unique ranking factors. But the fact is, no one outside of Google's engineering department truly knows.
Even if there are just 200 ranking factors, each one relies on a complex algorithm that probably has thousands of possible outcomes. Combined, these complex calculations determine where your webpage ranks at any given moment and geographic location for a search term.
It's easy to get caught up in trying to make your site meet or exceed all of Google's expectations in each of these areas. However, that's only going to lead to burnout and mediocre results. Instead, the best SEOs focus on scientific testing and satisfying user intent.
Scientific Testing and SEO
Using Experimentation to Deliver Exceptional Results
We've all heard of the scientific method. You propose a theory, control variables, and test it to prove or disprove a concept.
Applying that method to SEO is what sets the best agencies apart. Does it make sense to try to publish a blog post every week, or is our time better spent writing one massive article per month?
Should we spend time building links or agonizing over every little on-page ranking factor we can possibly work on?
These are questions that can only be answered by testing and evaluation to see what tasks actually move the needle and deliver results.
Good SEO companies prioritize their time by only focusing on the tasks that can be proven to have a tangible benefit to ranking.
Right now, quality backlinks absolutely do work. After you get the main on-page factors taken care of, focus more energy on outreach. Just be sure to optimize your anchor text ratios both sitewide and on an individual page basis. Go for link diversity that meets or exceeds your existing competition's backlink profile. Or if none of that makes a bit if sense to you, just call us…
Oh, and that blog schedule you're struggling to keep up with… Just stop. Write one quality 2,000 word article per month and promote it everywhere within your niche.
Those are generally going to get you the best results, but it's also possible that you're missing several little things that need to be taken care of first. That's why a thorough SEO audit should be your first step.
SEO seems complicated, but it doesn't have to be…
How to Satisfy User Intent and Win the Google Game
This advanced AI Google has built has one simple function: To Make Money. Search engines typically rely on advertising revenue to turn a profit. Google is no exception, and it dominates search because it serves up the best content on the page #1 organic results, relative to other search engines. It's called satisfying user intent.
If you (the user) have difficulty finding what you're looking for, you'll eventually get frustrated and go to a competitor search engine like Bing. On the other hand, if you consistently have a great experience, you'll continue to use Google and they can continue to show you ads above the organic results. SEO work can be condensed down into one goal: Satisfying User Intent.
How do we satisfy user intent with good SEO strategy?
It all starts with marketing fundamentals…
SEO starts with content that's written to a target audience. Buyer persona exercises, competitor research, and other strategies allow us to understand what your audience is looking for so we can tailor our content to meet their needs.
Beyond good content writing, ranking also relies on technical SEO metrics like site speed and meta tags, which are simply lines of code used to tell the search engines more information about a particular page.
Last but not least, search engines look at links from other websites to determine if a page is relevant to a particular topic or audience. Mapping out or "crawling" backlinks was a revolutionary approach to search which allowed Google to dominate the industry early on when they were the first company to use this technology to help rank pages.
Backlinks are still one of the most important ranking factors to this day. The only thing that's really changed over time is Google's increased ability to spot and devalue spammy backlinks.
See, SEO doesn't have to be complicated at all. We just need:
-Quality content written to the right audience
-Technical SEO
-Quality backlinks
Getting those three things "right" is an ongoing process that changes over time as search engines evolve to better deliver the most relevant pages that satisfy user intent.
If you're ready to take your brand to the next level, we want to work with you. We're legends of search with real, verified reviews on Clutch and Google. Reach out for a free strategy consult today.
Consulting Services
Brands of all sizes can benefit from a sound SEO strategy. It just doesn't always make sense to invest in an in-house team when SEO isn't a part of your core business. If you're reading this, you probably agree with us.
After all…
Savvy decision-makers from startup to the Fortune 500 level all know it pays to focus on what you're best at.
That's where SEO consulting services can really help your business stay on the right track. Sometimes, all it takes is the right guidance to generate an ROI out of your brand's website. If you have the time or resources to manage all the technical and creative aspects needed to market a website in the major search engines, SEO consulting might be the right fit for you.
Why work with an SEO Consultant?
As a full service agency, we normally manage SEO campaigns for our clients each month. If you'd rather do the work in-house though, we can help you apply the same strategies we use to generate revenue for our clients. SEO consulting might be a good fit if you:
Understand the value of SEO and want to grow your brand

Are not afraid of long-term projects with a slow payout

Have an internal marketing department capable of

Website Development

Content Writing

PR and Outreach

Or willing to outsource some of those tasks while managing the rest internally
If that describes your business, It might make sense to hire a consultant instead of either paying an agency to do the work or not pursuing SEO as a source of lead generation.
How to choose an SEO Consultant or Agency?
Choosing the right person or group to help with your SEO isn't a decision to take lightly. It can have far-reaching consequences for your business. It's easy to get caught up in the appeal of low-cost services that promise the world and never deliver. SEO is an industry filled with potentially risky strategies being sold by discount vendors.
An experienced consultant can help you find the discount services that might be right for your brand while avoiding the dangers of landing a Google penalty.
But how do you find an experienced SEO consultant?
It's simple really. Look for reviews on respected sites like Clutch. Check their Google reviews. Are they clearly written by employees of actual companies you can research on LinkedIn and other places? Or are they potentially fake reviews? Finally, look for social proof online. Do they have an extensive blog and case studies to prove both knowledge and past results? If not, you might want to consider looking elsewhere for SEO help.
What do SEO consulting companies do exactly?
It honestly changes from client to client. What works for one brand might be a complete waste of time in another industry or local market. When you ,hire an SEO Search Engine Optimization consultant, you're mostly paying for their experience instead of paying for time spent working on your project.
After all, consultants come with a high price for a reason. They know what needs to be done, which saves you money over paying someone else to both know how to create the strategy and also do the work.
A good consultant will begin with research to see what work (if any) has been done prior, and how well the site is currently ranking before getting into any specific tactics.
After that, we might need to make adjustments to an existing strategy or begin the project with keyword research and content suggestions. From there, the project will progress over time with the consultant providing specific actions to take in order to improve your website. Those suggestions can range from technical to content changes, and it can even extend off-site to link-building and PR strategies.
A good SEO consultant will look at each brand from a unique perspective before suggesting any work. After that, they will create a blueprint for the success and growth of your brand through organic search engine ranking.
Strategy and Planning Services
If you've hired the right consultant, they will deliver a comprehensive SEO strategy plan that can be executed either internally or with external help. In some cases, the consultant will probably suggest vendors or offer to do some tasks you can't handle internally.
The best SEO consultants will not only deliver the strategy report, but also talk with you to determine what you're best at. That way, they can help you decide which tasks you can handle yourself, versus the ones that are best outsourced. Your report might include any of the following suggestions:
How does an SEO consulting service work best with clients?
Consulting works best when both the SEO and the client agree to be partners in the success of the campaign. Communication is key, but follow-up is even more important. You should be 100% transparent about your internal abilities to follow the strategy and planning documents, and ask for help when needed.
The SEO marketing expert should also be willing to explain the reason behind each task and let you know how it fits into the overall plan for your site. Part of their time should be allocated to reviewing the work done to ensure it complies with all Google Webmaster Guidelines.
What does it cost to hire an SEO Consultant?
Prices vary widely from a few dollars an hour to hire an overseas freelancer to a few hundred dollars an hour for a top SEO expert. As with anything in life, you get what you pay for.
If you're serious about investing in the future success of your business, we suggest working with a top SEO strategist as early as possible in the development of your brand. Fortunately, consulting might only take a few hours each month or quarter, depending on the scope of the project.
If you're paying too much or not getting a lot out of a full service SEO contract, the question you might want to ask instead is: What does it cost to NOT hire an SEO Consultant? Could we spend less money and get better results? Are we making costly mistakes that will hurt the future growth of the business? Do we even need to bother with SEO right now? These are all valid questions an expert SEO can help you understand better.
Want to hire an SEO Consultant?
If you think hiring a consultant is a good fit, then we're here to help. Webology has experience doing SEO the right way across multiple industries. We've worked on projects from local to eComm. We manage client sites, but we also create our own lead generation channels and directly sell leads to businesses like yours. In other words,
we know the digital landscape.
Working with us means you don't have to worry about choosing the right vendor. We'll take a comprehensive look at your brand and identify the best course of action to get you to the next level. We'll bring your team into the brainstorming process and work with you to find the best way forward. Our goal is to deliver the maximum ROI for your investment in SEO. Reach out to see if we're a good fit.
Full Service SEO Agency
Whereas some larger brands might have enough internal resources to only require consultation from an SEO, other businesses might be a better fit for full service SEO work. With full service SEO, you partner with an agency that specializes in the work so they can handle everything for you. The agency will want access to your website admin panel and hosting account. They will handle all aspects of your SEO to include:
-Site Optimization
-Content Writing and Optimization
-Outreach via Email and Social
-Manual Link Building
-PR and Influencer Marketing
Full service agencies typically work on a retainer basis where you pay a set monthly fee for their SEO services.
What does a typical SEO retainer cost?
Industry averages change from location to location. In the United States, most agencies that charge hourly are somewhere between $100-$250 per hour. Flat-rate monthly retainers can be anywhere from $500/month up to five or six figures, depending on the size and scope of the campaign.
At Webology, we like to work on a retainer basis because our scope of work changes from month to month. Since SEO is an ever evolving process, monthly deliverables tend to change radically as the campaign progresses.
Our retainer rates are determined by performing a competitor analysis to see how much work it will take to outrank your competition and maintain that position going forward.
What is the Typical Minimum Contract Duration for Full Service SEO?
A lot of SEOs will want to sent a contractual minimum like 4-6 months of service before their work goes month-to-month. Their reasoning is that since SEO takes a lot of time to generate leads, they need you to be committed to the process until you see tangible results.
However, this does cause some clients to hesitate before signing. Clients fear they will spend money on SEO for half a year or more with little or no leads to justify the investment. As such, SEO agencies have to balance their need for time against client fears of wasting money on ineffective marketing.
Businesses that had a previous bad experience with SEO or another advertising channel will be especially fearful of getting locked into a long-term contract.
At Webology, we might request a 90-day minimum if you're only doing SEO with us. If you also let us manage your Google Ads, we typically start immediately with a month-to-month contract because
we'll be delivering leads in the first month
to set your mind at ease. Clients that let us manage both SEO and PPC usually work out the best because they see a consistently increasing return on investment each month.
Want to Hire a Full Service SEO Agency?
If you're ready to start your SEO journey, Webology is ready to help. We're a full service SEO agency with verified client reviews on Clutch. We were also listed as one of the top 25 SEO agencies by DesignRush.
Give us a call to schedule a complimentary SEO audit and strategy session. 205-636-8612
The Best Local SEO Experts in Birmingham, AL
Local SEO isn't just another service we offer at Webology. It's probably the most important service we offer for local businesses. Here's why:
46% of all searches in Google are seeking LOCAL information.
Out of those searches, about 88% either called or visited a local business within 24 hours. That's why local SEO is possibly the most important service we can offer to help you grow your business. It connects your brand to local customers who are actively seeking the product or service you offer.
Local SEO is earned media that captures highly qualified leads at the point of making a purchasing decision.
More on that in just a bit… But if you already have a good understanding of how SEO can help your local business, feel free to skip the rest of this article and give us a call. Otherwise, let's take a look at what local SEO is and why it needs to be a big part of your overall marketing strategy.
What is Local SEO?
To understand Local SEO, you need to understand how all search marketing works first.
Search Engine Optimization is simply the practice of helping search engines like Google and Bing to better understand the content of your website. Search engines rely on advertising revenue. As such, they only want to serve up the best content on page #1 so that users consistently use their service instead of the other search engines. It's commonly referred to as
satisfying user intent.
This allows them to sell more ads, and it's the reason Google gets more visits than Bing and other search engines. Generally speaking, Google does a better job at serving relevant information that matches what we are looking for when we search. That's why Google gets about 63% of all the search traffic in the US. So, how does that work locally?
Mastering Local SEO to take market share away from your competition
Local SEO specifically targets a geographic region to improve brand visibility around location-specific terms like:
By improving your website's visibility in Google around these terms, we can increase your market share, thereby capturing leads that otherwise would have gone to your competitors. Local SEO helps you grow your brand presence and increase sales.
Local SEO: How To Rank Your Local Business
Now that you know what local SEO is and how it can benefit your brand, you need to find the best way forward.
These are all very important questions you might be asking yourself. If that's the case, feel free to reach out for a 100% free SEO strategy consultation. We won't try to sell you during the consult. Our goal is simply to help you make the right decision for your business.
What are the best ranking strategies to improve local SEO?
This is the subjective part of local SEO that tends to confuse and cause distrust. It's a common sales tactic within the industry for an agency or freelancer to call you and point out what your current SEO provider is not doing. With over 200 different ranking factors used to determine who ranks on page # 1, this is an easy conversation-starter for any salesperson. However, these sales tactics deceptively ignore what your SEO team is doing and whether or not your current strategy will produce a better ROI than focusing on other areas first. A good local Birmingham SEO expert will constantly test and benchmark different tactics to see what delivers the best returns for their clients. Does a particular task consistently improve local map rankings? Is it something we can do safely without risking a Google penalty? Are there better uses of our time that will deliver better results for the client? Those are the questions the salesperson doesn't want you to think about. These are all important things to consider in any local SEO campaign, and any good agency is going to test tactics before they implement them on client websites. It's not always the case that you need a '2nd set of eyes' on your SEO strategy. Chances are, your current provider is doing what they have proven to work over time. If you're still not sure though, reach out for a free consult. We'll let you skip the sales pitch and speak directly with an SEO strategist who can dig deep and find new opportunities to improve your local brand awareness…even if that means you take those ideas back to your current SEO provider. We want you to do what works best for your business, even if that means going elsewhere or doing the work yourself.
Specific Tactics that work for Local SEO:
At the time of writing, we're seeing the most improvements by focusing on the tasks listed below. SEO is a constantly changing industry though, so we must continue to do our R&D to make sure we're not wasting your time on fads and trends that don't really deliver. Here's what's working for our clients right now:
Google My Business Optimization – Savvy Local SEO Tips for Google My Business
Your Google My Business listing is probably the 2nd most important digital real estate you own, with your website being first. This is the listing that displays in the local map results when someone searches for a business like yours. Most GMB listings are incomplete and not fully optimized to rank in the local maps. At a minimum, your listing should include:
That's the foundation of your local SEO campaign. Listing optimization is critical to your success and it only takes a little time to setup a profile correctly. After your initial setup, your listing should be actively managed. You should consistently post updates from your blog and mention unique offers. Add new photos as often as possible, and be sure to respond to all reviews on your profile. Once this is done, you can move on to optimizing your website for local search.
Locally Focused Content Marketing
Content is king, right? But what does that really mean? If you're a local business it means you have to pull double duty in your content writing efforts. You have to be relevant to your industry while also writing about locally important topics. Before you jump right into blogging about the next upcoming local event though, it's important to step back and look at your existing content. Do you have enough quality content on the main pages of your website? Probably not…
Optimizing Content on your Main Pages
Do you even have all the pages that you need to take full advantage of local content marketing? Probably not, but here's a good place to begin. Sit down and spend some time listing out every possible service you can offer. If you're a marketing agency it might look something like this:
Even if it's a service you rarely offer, it probably needs to make the list. Why? If you rarely offer it, chances are your competition didn't bother to create a page around that product or service. That's an opportunity your brand needs to exploit, and it can often be very lucrative… One of our clients does glass work. He's the only person in his market who has bothered to write service pages for things like bulletproof glass, buffet table sneeze guards, and glass partitions. Guess what…
That business has already closed multiple 5 figure jobs off a single page with less than 1,000 words that we wrote 60 days ago.
A single piece of content that cost the business less than $100 has already produced an exponential ROI that is well over 1000% for our client. Effective content marketing starts by understanding both the services you offer and the local markets you're selling to. It doesn't always work out as well as it did in the example above, but it might. Can you afford to miss out on those big deals just because you didn't take the time to explain each and every service you offer to online shoppers?
Making your Content Speak to the Local Market
Once you've identified all the product or service pages you need on your site, it's important to tailor your content to the right (local) audience. Buyer persona exercises can help identify who you're marketing to. Once you've done those, find ways to integrate locally relevant topics onto each product or service page. Just be sure to avoid the appearance of keyword stuffing by writing naturally and only focusing on what's relevant to the local audience…satisfy user intent and Google will reward you. Once you've built up your main pages, be sure to blog as frequently as possible while also focusing on quality. Here's a few tips for effective local blogging:
Post on a consistent schedule – Publish on the same dates and times each month
Post a mix of locally relevant topics along with your industry topics
Interlink your posts with other related posts and important pages on your site
Once you get these basics out of the way, move on to technical SEO and other important tasks, but never stop improving your content. Advanced content optimization tactics can allow you to optimize for featured snippets which get 8.6% of all search traffic when they are present.
Local Business Directory Submissions
The next big area of focus needs to be on local business directory submissions, which are also commonly referred to as citations. These are any of the places your brand's name, address, and phone number (NAP data) are found online. We suggest exercising caution here and not wasting too much time doing the work yourself. It's easy to do citations the wrong way. Even if you get it right, this is a time-consuming process that's best outsourced and automated whenever possible. Consistency and accuracy in listing data is still very important to your overall ranking. One of the easiest ways to make sure your data is accurate is to manage it through a service like Yext, the main data aggregators, or a combination of both. When we do local SEO we start with Yext and the aggregators. After that, we submit manual listings to about 250 different sites that aren't covered in those services. Next, we use several tools to identify both local directories and industry specific directories that provide a powerful citation source for our clients. It's important to note that these are considered to be 'foundational' links. They help balance out anchor text ratios and make your site look reputable to Google and other search engines.
On-Page SEO Strategy
That's definitely admirable, and it tells me you take your business seriously. Most of what we've discussed so far can be handled DIY if you have some basic skills…and lots of spare time. If time's an issue though, definitely reach out for help with your content and basic setup. Even if it's not, you should consider outsourcing the technical SEO work to a specialist. And that probably isn't your web developer… SEO strategy is a highly-specialized skill that requires years to master. It goes way beyond just understanding PHP/HTML development and good landing page design. No offense intended if you're reading this and you also happen to be a pro coder! It's just a completely different skillset, and very few have mastered both. Time and experimentation are required to truly understand what works and what doesn't in local search. Here's what we've found to be important over the last few years:
Local NAP data displayed on each page of the site
Keywords in meta titles
Image alt tags
Internal linking
Structured data
Proper heading tags
Social Media and Google Maps API integration
Robots.txt and sitemap setup
Keywords in URLs
That's some of the most important tasks, but they all rely on a keyword strategy that has to be decided on before beginning any work. Planning that strategy can take an expert days in some cases. It's best to outsource this work to someone who does SEO on a daily basis.
Building Backlinks with LOCAL Relevancy
Once you've gotten all the other fundamentals out of the way, it's time to look at building links. This is a topic that gets a bad reputation in the SEO world, but links are just as critical as they always have been. Focus on earning links from sites that have local relevance while also getting link placement on authority sites within your industry. What does that even mean? I know…there's a version of that statement on almost every website that deals with local SEO. It doesn't help our reputation for being vague and mysterious, does it? The answer to what that really means is best learned in a classroom or over many months of research though. I can't really explain it fully without adding a few thousand extra words to this section! A knowledgeable link builder looks at several metrics to evaluate the quality and impact a single link will most likely produce. Think 3D Chess… -What's the current anchor text ratio of the client site? -How about the page we're linking to? -What's the Domain Score of the linking site? -How about the PageRank of the linking page? -Is there any link spam in the 2nd tier we should be aware of? My best advice is to exercise caution when building links. SEMrush has an excellent tool that allows you to enter a set of keywords and competitors. Once you do that, it crawls the web to find the most important backlinks based on your criteria. If you're new to SEO, that tool will keep you on the straight and narrow for the most part. If you don't have access though, you can always just focus on blogs that write about your industry and local news publications in your link-building efforts.
All that work! It can seem overwhelming to think about everything you need to do to really leverage SEO the right way. If you're busy, it might make more sense to outsource the work to an expert SEO. But how do you find a reputable company that's excellent at local SEO? To start, check out their website. Do they have informative content that seems to be genuinely written internally by an expert? How do they rank in Google when you type in SEO agency ? It's true that this is a highly competitive industry, but a legitimate firm should have some exposure on the first page. While you're there, take a look at their reviews. Those are just a few of the steps you should take when searching for a new company to handle your SEO.
Want to chat with Webology about your local SEO?
Chances are, if you bothered to read this whole section, you must be committed to growing your brand through organic search marketing. We'd love to help you get started by offering a free consultation and overview of your existing digital presence. As a full service agency, we can also help in other areas like web design, social media, and paid search advertising. More importantly, we can help you decide on the right mix of strategies to grow your brand through digital marketing. Reach out to schedule your free consultation today.
Proven eCommerce SEO Services to Grow your Brand
At Webology we take a consultative approach to developing the right strategy to grow your business through organic search. We begin by working with you to determine the best plan of action based on the products you sell, their profit margins, and overall competitiveness within the niche.
That knowledge allows us to approach keyword research with the strategic vision to deliver a high ROI early on in the campaign.
Careful analysis of keywords and competition allows us to implement a custom strategy that's 100% focused on sales growth. We take a holistic approach to SEO that goes beyond traditional metrics like backlinks and content length. Our comprehensive approach looks at areas other SEO providers might overlook like conversion rate optimization, crawl budgets, and user behavior signals. We deliver advanced SEO work to eCommerce brands just like yours.
Google Penalty Audit
Pandas, penguins, and possums got your revenue down?
We can relate! Over the years we've been approached by website owners who have lost revenue as a result of one of the named Google penalties.
Our team of SEO specialists can help you quickly diagnose the root cause of the issue and put your organic ranking back on track.
While not as common of an issue as they used to be, Google penalties do still happen from time to time. Hacked sites and thin content are often the source of problems today.
If you think lost organic ranking may be the cause of a drop in sales numbers, don't hesitate to give us a call. We can quickly diagnose the issue for free. After we know the most likely cause, we can either consult with you to outline best practices for recovery, or do all the work for you. In either case, we will have to provide you with a custom quote after our diagnosis because no two penalties are exactly alike.
Identifying a Google Penalty
Micro Case-Study on Malware Cleanup
Often, business owners aren't even aware that such an issue is possible until it's too late. In one case, a local business approached us in mid-September after the phones mysteriously stopped ringing. They are a local automotive business whose aged domain had always kept them ranked in a low competition market.
This particular case was quite easy to troubleshoot. A quick crawl with SEMrush bot identified several outbound links to pharmaceutical sales sites. Those links were live for over three months before triggering a penalty.
The site had been hacked, and there were over 1,200 hidden landing pages with spammy anchor text that the client was completely unaware of.
It was the perfect case to highlight the importance of professional web hosting and maintenance.
Recovering From a Google Penalty
The recovery process was simple, but took about 60 days. We started with the obvious, and removed the malware from the site files. Google Search Console had a notification of the penalty, so we submitted a reconsideration request there.
Of course, the rank didn't recover fully to the levels they were enjoying before the hack. We proceeded with on-page strategy, content optimization, citation building, and we took it to the next level with a few editorial backlinks from related sites.
Within a couple of months, call volume was back to the levels they had enjoyed for years. It all goes to show the importance of regular site maintenance and following SEO best practices.
Think your site may have been hit by a Google penalty? Reach out for a free initial evaluation.
Link Building Service
Backlinks are such a controversial subject in the SEO community. On one hand, you have white hat purists and technical SEO aficionados telling us that we either shouldn't build links at all or that they see sites ranking with only a dozen or so referring domains against authority sites.
In some niches, that's absolutely true. Technical SEO carries a lot of weight in today's algorithm and in some cases, that's all you need to rank. In other cases though, I have to seriously wonder about claims of sites ranking without many links in a competitive niche.
We live in a world where popular Private Blog Network (PBN) providers block 3rd party crawlers like AHREFS and Majestic to keep their networks secure. Can an SEO really say with certainty in that case that the site in question is really ranking 'without a lot of backlinks'? It could just be grey hat magic fooling us into thinking 'links don't matter'.
On the other hand, SEO's who leverage link-building as a strategy will suggest things like competitor link analysis, citation building, and aggressive outreach or PR efforts to increase domain ranking over time. Are they right, and do links still make up a big portion of Google's algorithm?
Our opinion is that there is no right or wrong answer until you have looked at the industry you're trying to rank in thoroughly. Google SERP results are very specific to any given niche. In some cases, very few links are required to rank. In others, you won't rank without a high number of quality inbound links. As SEO strategists, our job is to help you find the fastest path to generating quality traffic, whether that be links, content, technical SEO, or (more likely) a combination of everything.
Which Backlinks Work Best?
Again, it all depends on your niche and what you're trying to do with your SEO. If you're a local business, local news stories, chamber of commerce listings, and links from other local businesses tend to work well.
eCommerce or blog sites get good results by reaching out to other bloggers with similar topics on their blog. Authority sites like Forbes or The New York Times can benefit almost any website but they are difficult to get, which brings up another point…
Easy to acquire links don't help your rank as much as something that's rare and hard to acquire.
Earlier versions of the Google algorithm were easier to span with low quality links. To combat this, Google took measures to evaluate new links coming to your site. In some cases, those links can be devalued if they appear to be low quality or spammy in nature.
Which Backlinks are Dangerous?
Yet another controversial subject and one that even many SEOs are confused about. Let me start by asking you a question. Don't you just hate movies or books with gaping plot holes or inconsistencies? What about when the author/director decides to go back and change stuff up after the fact?
I can't stand it either, and by the way…Han shot first!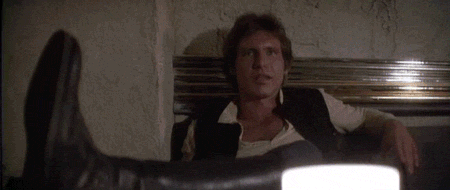 If that sort of thing bothers you in movies or books, then don't bother reading press releases from Google over the years.
How Google's Algorithm Contradicts Google's Webmaster Guidelines
One minute guest posts are taboo, the next they're okay.
Here's my favorite statement from the Webmaster Guidelines:
"Any links intended to manipulate PageRank or a site's ranking in Google search results may be considered part of a link scheme and a violation of Google's Webmaster Guidelines."
Okay Google…If I'm a legit local business and I subscribe to Yext, will it increase the PageRank of my homepage that didn't already have any existing backlinks?
Is this manipulation or am I just trying to spread awareness of my business everywhere?
Let's be real for once Google…Please?
We all know it boosts PageRank. So is everything a business does online manipulation? Technically, yes. Are you going to penalize sites for doing stuff like that? No.
So don't overthink SEO…
Reading between the lines allows good SEO's to understand what's really acceptable to Google versus risky stuff like:
-PBN's
-SAPE Links
-'Excessive' Guest Posting
…but at the end of the day all link building is manipulation on some levels. It's just that some of it is justified and other methods are not.
What is Anchor Text?
Anchor text is simply the text where a link occurs. In some cases, we link to an important page like our homepage with generic text like click here, learn more, etc.
In other cases, anchor text contains keywords that are or are related to what the page is meant to rank for.
Still links can also be 'naked' in the case where the hyperlink itself is used as the anchor.
There are a few other link types, but the last one we will mention here is branded anchors. This is where either the brand name or a variation of the brand is used as anchor text. In our case, we will reference Webology or Webology SEO, LLC as our anchor for a backlink.
Part of Google's effort to combat link spam includes searching for unnatural anchor text profiles that are an obvious sign of manipulation.
How do I Optimize Anchor Text?
The Internet is full of different theories on this. However, the safest way for brands to build links is to follow a natural anchor text profile. In most industries, this means that the majority of your links will be either branded text or naked URL links.
Additionally, most sites with a legitimate link profile have the majority of the backlinks going to the homepage with fewer links going to service or product pages and blog posts.
Blog posts may pick up a diverse mix of related anchors and a few that exactly match the post's meta title.
Pro Tip
: If you're actively building links to rank for a particular keyword, take a look at the top ranking sites when you search for that phrase. Plug their URL into AHREFS and take note of their anchor text and link sources. The links and anchors you see most commonly for your top ranking competitors are the types of links you should be building in most cases.
Does Anchor Text Influence Ranking?
Yes, absolutely. We have data to prove it. If anyone says otherwise, they aren't paying attention to their keyword tracking. However, optimized anchor text is dangerous if used incorrectly. Even white hat link building strategies run the risk of triggering a penalty.
Simply building links with the same keywords over and over without any other link types going to a particular page will eventually cause that page to be deindexed from Google's SERP. That's why the best SEOs start with 'foundational' links which are a mix of branded, naked, and unoptimized anchors like 'click here'. Those link types will diversify your anchor text ratios and allow for a few keyword anchors which tend to really increase rank dramatically.
Is SEO Right for my Business?
If you've read this document in its entirety, you understand just how complicated the world of SEO is. It's one of the most highly specialized marketing disciplines, and recent changes have made internally managed SEO next to impossible for all but the biggest brands.
At Webology, we strive to be honest and upfront with our clients. As much as we love SEO, it's not the right fit for everybody. If you're just getting your toes wet in the world of digital marketing, you should probably start with a basic website and paid traffic via search or social. Doing SEO right requires big budgets. Most organizations will be better served by starting with paid advertising channels first and reinvesting the ROI into SEO for long-term gains.
We can help you get started with a good strategy for paid search or social that will put you on the right path to growing your business through digital marketing. Once we make your website profitable with paid traffic, we'll be ready to help you start your SEO journey. Or if you already have the budget and patience to begin SEO today, we're also ready to get started immediately to help you continue building your digital presence.
Contact Webology for SEO Help Today
Ready to take your brand to the next level? If you're serious about sales growth and committed to your business for the long-term, we want to work with you.
Webology is a team of highly talented internet marketers who understand the complexities of modern SEO. Partner with us and we'll hit a home run for your brand. Just fill out the form below to get started.
Still Shopping Around for an Internet Marketing Agency?
Reach out to us for a free consultation today