Search engine optimization (SEO) jobs are in demand because companies need help getting their websites ranked on the first page of Google, Yahoo, Bing and other search engines.
The job statistics below are from the U.S. From the Bureau of Labor Statistics, Brian Dean's Backlinko, Search Engine Land and several other websites. We've compiled all the data from leading sources into one massive article that you're free to reference in your research, so let's get started:
What Are SEO Jobs?
A search engine optimization (SEO) professional uses a combination of technical and creative skills to improve the visibility of websites in search engine results pages.
They do this by optimizing web pages for keywords relevant to their business. SEO professionals typically use a variety of tools and methods, including keyword research, site mapping, backlink analysis, and HTML code optimization to achieve their goals.
Today I'll share some interesting facts about the SEO industry and what it takes to become an SEO specialist.
This post provides some of the most important statistics about SEO jobs and employment in general.
Let's discuss what the future holds for the SEO industry, and what employers are looking for in new hires.
Highlights And Key SEO Jobs Data Analysis
The average salary for an SEO is $60,000+ per year.
SEO is growing rapidly, especially when compared to other jobs.
The highest annual salaries on average ($72.6k/year) for SEO pros are paid by companies based in CA, CT, NY, and NJ. The mean salary of those located in UT, PA, and IL is $48.7k
Most of the jobs in this career field require a bachelor's degree, and 64.3% don't need any degree but only 7% require a master's degree
The number of job postings wasn't affected by the COVID-19 epidemic. During the height of the crisis, there seemed to be a slight increase in the number of postings for the positions
According to LinkedIn, there are currently 4,200,000 people with SEO-related job titles
Companies often hire people with titles such as "Senior SEO manager", "Head of SEO", "SEO account manager", "SEO content writer", "Marketing manager SEO", and "SEO digital marketing
SEO jobs require skills in marketing, search engine optimization, Google analytics, Google ads, data analysis, and content creation
Only 22.9% of all SEO jobs require technical skills as an SEO analyst. The vast majority (77.1%) of hiring managers are looking for SEO professionals who have non-technical skills like "SEO strategist"
Most of the jobs in this career field require a bachelor's degree
New York, San Francisco, Austin, Chicago, Atlanta, and LA are some of the places that have the highest number of search engine professionals
Many of the people who hold these positions have a degree in a related subject, such as computer science, business, psychology, marketing, or communications.
In 2020, the demand for SEO professionals will grow by 13%
In 2020, the median number of years of experience for SEO professionals will grow by 3%.
According to Indeed, in 2022, the most popular programming language will be HTML
Experience with a specific tool is needed in 63.4% of the jobs that require it. Some of the most popular tools used by employers are: Screaming Frog, SEMrush, and Google Search Console
SEO Jobs Statistics by Brian Dean
Based on Backlinko's analysis of 7,051 job postings on Glassdoor and LinkedIn, they discovered that the current SEO job market is hot and competitive. Indeed, the average salary for an SEO professional is $87,000, which is higher than the average salary for other job titles in the advertising, marketing, and communications industry.
The demand for SEO professionals is high, and the competition for jobs is stiff.
The average salary for an SEO position in the USA is $72,061. An average of $78,000 was offered for all the jobs listed in their sample. A Search Engine analyst at a tech company in the New York City area is the highest paying ($95,000 per year) job in the sample. One of the lowest paying jobs in the report was a Local SEO Manager at a restaurant chain in the Boston area, who made 57,000 dollars per year.
How many people work in the SEO industry?
It's difficult to say how many people work in the field, but LinkedIn can give us an idea. 207,000 people globally and 29,000 in the UK were found through a simple search on LinkedIn for all people with the SEO title. Over the past few years, the demand for courses, qualifications and careers has grown. In most years prior to 2022, January was the peak month for search engines to record queries looking for SEO jobs.
We can just look at searches in January of each year from 2016 to 2022 to see the growth:
From 3,600 searches in January 2016 to 9,900 in January 2022, the number of searches for "SEO jobs" has increased by 175%
The number of searches for "SEO courses" grew from 2,945 to 18,100 (a 514% increase)
The study looked at the number of searches per month for each of the following words:
Entry-level SEO jobs
SEO manager jobs
Head of SEO jobs
SEO executive jobs
SEO director jobs
If we look at global searches in the most recent month of data, we can see that there were more than two thousand searches.
More junior roles are the focus of almost half of the data split between the suggested searches. Fewer than 1 in 10 job seekers in the industry are looking for head of or director roles, according to the numbers, which suggest that a third of SEO job hunters are looking for manager-level roles.
Salary History for SEO Jobs by the Bureau of Labor Statistics
The Bureau of Labor Statistics (BLS) is a govt website within the United States Department of Labor, whose mission is to provide information about labor-related issues that will be useful to policymakers, researchers, and the general public. The median annual salary of SEO advertising and promotions managers is higher than the average salary in the healthcare and social assistance sectors.
In May 2021, the median annual wage for SEO advertising and promotions managers was $127,150. Half of the workers in an occupation will earn more than the median wage, while the other half will earn less. The lowest 10% earned less than half a million dollars, and the highest 10% earned more than a million dollars.
In May 2021, the median annual wage for SEO marketing managers was $135,030. The lowest 10% earned less than 77,680 dollars, and the highest 10% earned more than 208,000 dollars.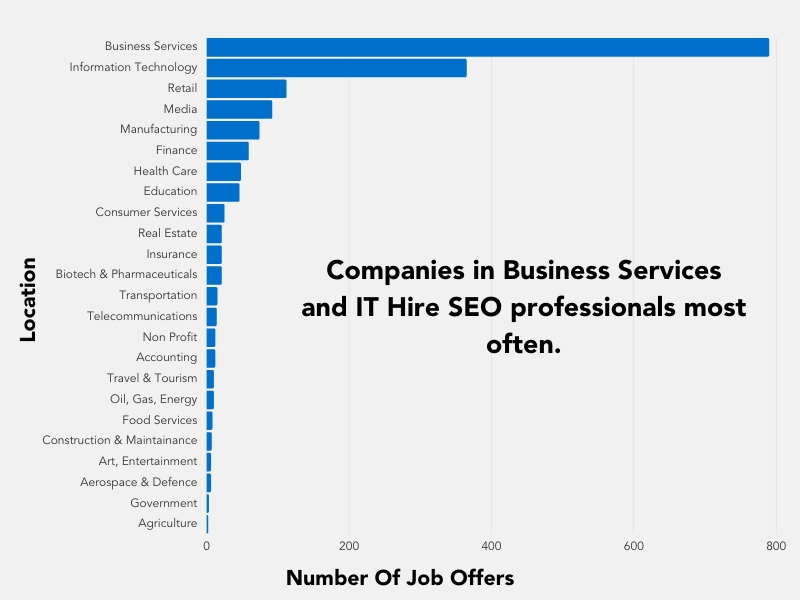 SEO Statistics for Marketing
SEO is an essential component of marketing, and most businesses should be investing in it. Search engine optimization (SEO) can be a major revenue driver for any business.
Over 85% of the search engine market is held by Google
According to Internet Live Stats, this year has already seen 943 billion searches by the search engines
67.6% of all the clicks are accounted for by the first five organic results on the first page alone
More than 200 factors are used by the search engine to rank sites (Source: Backlinko)
More than 16% of the annual organic search results are new. (Source: Internet Live Stats)
More than half of marketers think organic search has the best return on investment of any marketing channel (Source: Search Engine Journal)
On average, the cost of customer acquisition can be reduced by 87.41% with the help of search engine marketing (Source: Terakeet)
70% of marketers think that Search Engine Optimization's is more effective than pay-per-click (Source: Databox)
75% of marketers think their strategies are very effective at helping them achieve their goals (Source: HubSpot )
The average length of the top position article is 1,343 words in Google ( Sources: Ahrefs and Backlinko )
According to a study by BrightEdge, 53.3% of all online traffic is driven by organic searches, meaning that SEO is an absolute must for any company hoping to get more website traffic from search engines. So whether you have a small eCommerce site or a large one, SEO is something your business can't afford to ignore.
Average SEO Job Annual Salary
According to the information provided by the US Bureau of Labor Statistics, the national average for a full-time professional SEO job is $61,210. According to data from Search Engine Land, the average salary for a San Francisco SEO position is $78,900 per year. This means that the average salary of a San Francisco SEO job is $17,790 higher than the average salary of a job in another state.
According to research information provided by Conductor, San Francisco had some of the highest salary for SEOs across all professions. And this is no surprise because companies based in the San Francisco area tend to hire people who can bring a lot of value to their business. The average salary for SEOs in San Francisco is 2.64x higher than salaries for SEO jobs in Charleston, NY, or New Orleans.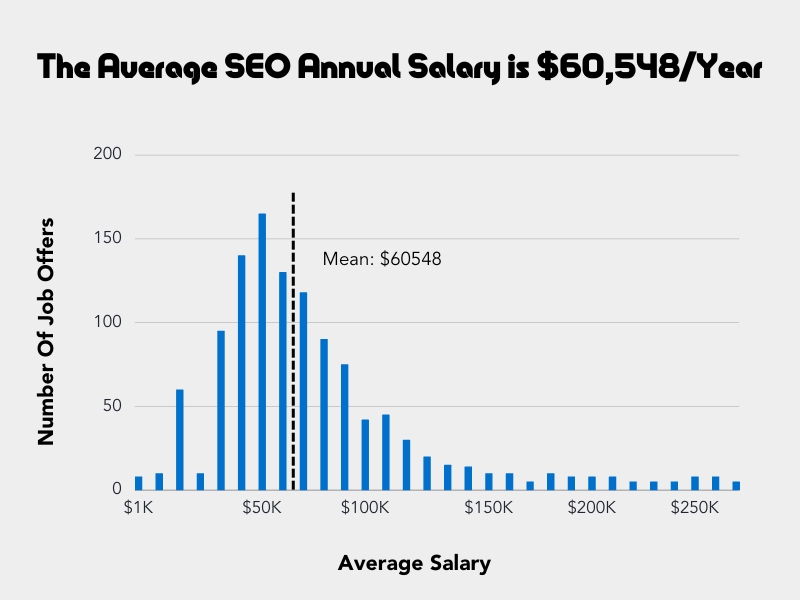 The highest SEO job salary was reported in Seattle ($10,0756). The lowest SEO job salaries were reported in Louisiana (between $54460-$80000), Ohio ($75,000), and Arizona ($80,000). They ran the same analysis by the State. California-based companies paid the most for SEO help overall. If you want to increase your chances of getting hired for an SEO job, you must learn what a good SEO job involves. I'll briefly cover that in the next section.
Most companies that employ SEO professionals offer training programs, which you can enroll in to get started as an entry-level SEO. These programs will teach you how to write great content that will attract new clients to the website you're working on.
You will also learn about how to improve your search engine optimization from a technical standpoint. When you learn these skills, you can easily land an SEO job either in-house or at an agency. To find a high-paying SEO job, you should first decide where you would like to work. There are pros and cons to all your different options.
Most Popular Job Post Titles for the SEO Industry
The SEO industry has evolved. One thing that has remained constant though is the rapid evolution of the SEO industry itself. Today, the SEO industry is one of the largest marketing channels leveraged by brands in practically every industry imaginable.
There are many different types of jobs available within the SEO industry. For example, some people create content, some create back-links, and others optimize web pages. Some people work for companies to analyze how their websites are performing and develop strategies.
It's also important to mention that SEO tactics have changed drastically over the years. For example, in the old days, SEO only meant optimizing the main web page to rank high on Google and other search engines.
Nowadays, SEO includes the creation of blogs, social media posts, and other digital content. The SEO industry has also grown tremendously. The number of people in this industry has increased over the years as brands continue increasing investment in the channel.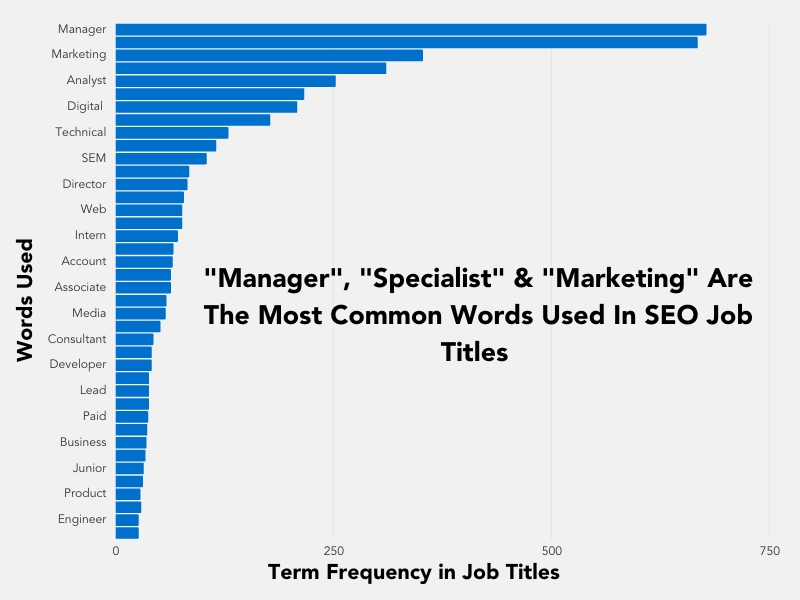 We used job title data from Indeed and analyzed it to learn about the types of jobs available in the SEO industry. "Manager", "Specialist", and "Marketing" are the most common words used in the title of the job. We discovered that job titles often included phrases such as "SEO manager", "SEO Specialist", "Head of SEO", and "SEO Content writer".
Non-technical descriptions, like "manager" and "marketing", make up 77.1% of the jobs in the search engine industry. Technical terms, like "technical SEO" and "analytics", are included in only 22.9% of job titles in the SEO field.
Here are the most popular job titles in the SEO job market right now:
SEO Manager
Senior SEO manager
Head of SEO
SEO Specialist
Head of Social Media Marketing
SEO Content Writer
This survey of SEO jobs indicates that the majority of roles are either remote or contract-to-hire, meaning they aren't full-time positions. In addition, we also found that the second most common phrase in this SEO job description was "remote work possible" and that's probably the case for many others.
The Highest Number of SEO Job Postings by Region and Industry
Companies based in Austin, Chicago, San Francisco, and New York have the highest number of job offers in the SEO industry. The US cities with the highest number of jobs for people who work in the SEO industry are found first in the image below.
We looked at job postings in other states on the internet. California, New York, Illinois, Florida, Texas, and North Carolina are some of the US states where there are a lot of postings for SEO jobs.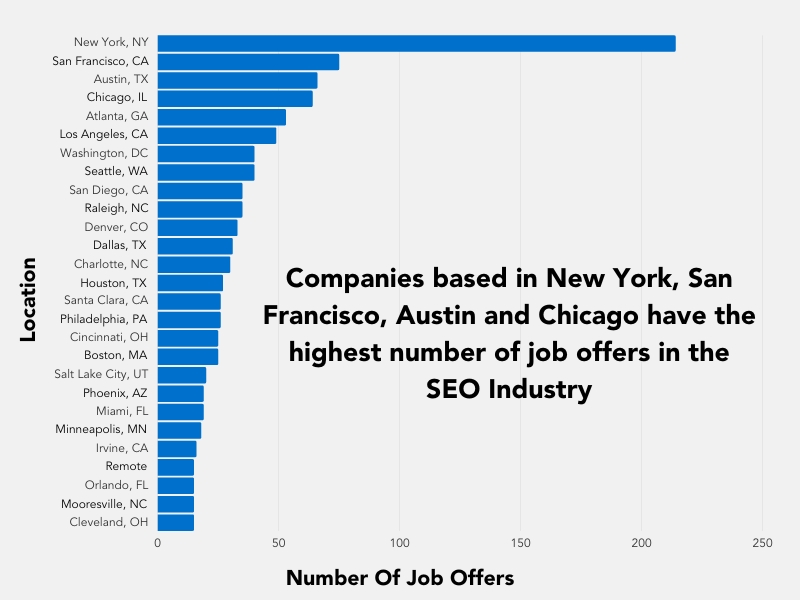 The highest number of SEO job postings are in the fields of advertising and marketing, staffing and outsourcing, and information technology. Advertising and marketing businesses are the ones that employ the most SEO professionals, indicating that the agency space is a major employer of SEO talent.
We looked at the number of jobs posted on the internet by the SEO sector. Most of the time, business services and IT are the sectors that hire for Search Engine Optimization jobs the most.
According to industry research, US businesses spent $700 billion on marketing services in the past year alone. All digital marketing agencies need some sort of staff to work with their clients.
Educational Requirements of Search Engine Optimization Positions
In the Internet marketing industry, there are plenty of opportunities for workers who have a strong knowledge of the subject and a willingness to continually learn. Even those who do not have a college degree may easily find a good job in our field. The requirements for SEO jobs can vary quite a bit depending on the company and the individual position. However, here are some basic educational requirements for SEO positions.
It was found that 64.3% of the positions have no educational degree requirement at all. Almost 30 percent of the job postings required a bachelor's degree or higher. Only a few companies looked for candidates with advanced degrees.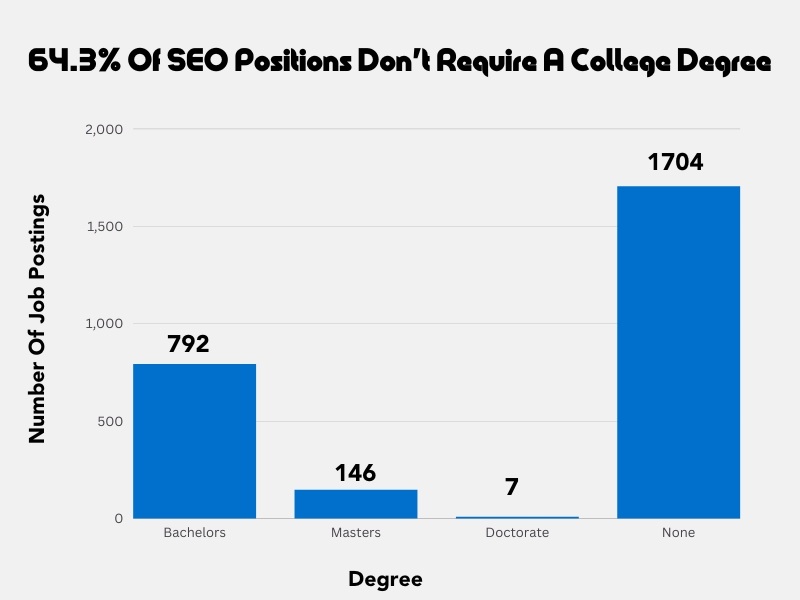 A bachelor's degree isn't going to hurt you if you're looking for an SEO job. Search engine optimization is a fast-changing field that is clear, so showing an ability to learn new information may be an advantage in the job market. However, many SEO professionals took a unique path to get into the career field compared to other industries where there's a clear path from University to job. This is why most employers aren't necessarily just interested in candidates with a university degree in marketing or SEO. They prefer candidates with a lot of experience in the field and a proven track record of success.
If you are interested in learning more about SEO you begin your studies online by spending a few hours each day going through professional training. You can enroll in a course on Search Engine Optimization offered by online schools and respected tool vendors like AHREFS or SEMrush. These schools and companies provide courses on topics related to performance marketing or internet marketing as it relates to websites. In addition to online courses, there are plenty of books that can teach anyone the basics of SEO available on Amazon.
FAQ
Are SEO jobs in demand?
According to many sources, it seems like jobs related to search engine optimization are in high demand. The reason for this is that SEO has been identified as one of the most lucrative ways to make money online. Many experts agree that there is a shortage of SEO specialists in the field. This means that many employers can't find the people that they need to fill their positions, driving up average salaries each year.
There are a lot of jobs available for people with or without a college degree in SEO. Some of the best SEO jobs are related to advertising in the eCommerce space. Other options may be to focus on local SEO or work at an online publication. The truth is that there are many different kinds of jobs related to search engine optimization.
How many people work in SEO?
According to a study conducted by Search Engine Watch, the number of SEO jobs is growing very quickly. They found that there were about 4.47 million jobs available for people with SEO experience. About 3.95% of the total number of jobs available are related to SEO. The job statistics show that the demand for search engine optimization jobs is increasing faster than the number of available jobs.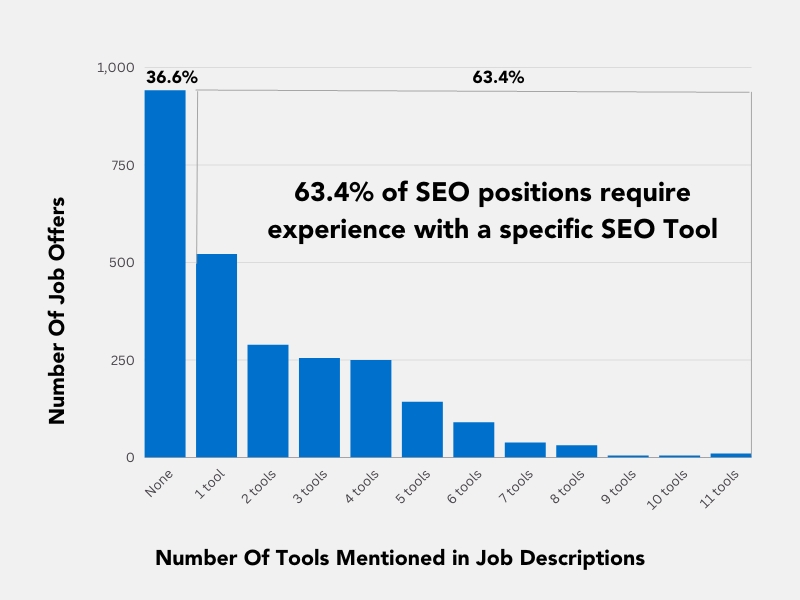 Experts predict that there will be more opportunities in the future because companies are beginning to realize that having an SEO specialist on staff is important. The only problem is that there is a shortage of qualified SEO professionals. Many hiring managers report that they have been looking for them for a long time.
Is SEO a Good Career in 2023?
If you're thinking about becoming a Search Engine Optimization (SEO) professional, then you're in luck! The demand for SEO experts is expected to increase by 26% over the next five years. SEO is a job that involves a lot of knowledge and skill. It combines aspects of creative and technical work together.
You need to be able to understand what your customers are looking for and then find a way to make them find it. It requires a lot of effort and time to become successful. But the pay is pretty good if you do high-quality work.
Conclusion
Search engine optimization is a growing field that has attracted several new workers in the past few years. There is no end to the demand for SEO professionals! There are lots of people who have learned the basics of SEO and are eager to learn more in this fast-paced career.
The demand for new hires has increased over the past several years. That is why companies are willing to pay employees more than they used to. Many people who are interested in SEO are self-taught. They study books and websites independently to gain knowledge.
In addition, many people who have been in the field for a while are constantly learning more and more about SEO. Companies that are looking for a good SEO expert are not interested in self-taught people just starting out. They want people who have experience in the field. Although SEO is not one of the top 10 jobs, it is still one of the most popular in the digital marketing space and will continue to grow in future years.